Sometimes a simple yet elegant idea comes along that solves a pressing problem, and here's a perfect example of that: 360 Electrical's Plug and Turn, a two-plug wall outlet that can rotate in any direction and maintain power even while being rotated.

Each receptacle has 18 click stops around the full 360° rotation, giving you room to plug in bulky wall warts or oversized plugs with ease. It fits into a standard-sized electrical box, and has a nice-looking snap-on screwless wallplate.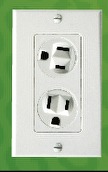 360 Electrical plans a family of products based on this great idea including GFCI outlets, 20-amp commercial-grade outlets, 250-volt outlets, multiple outlets and even power strips. Wonder why nobody thought of this before?
Gizmodo