One hundred cyclists of all ages and in various states of undress rode
across New Zealand from Tarakohe to Pohara on Sunday for a cause they
strongly believe in. Great photos.

There was almost a carnival atmosphere at Golden Bay's third
annual World Naked Bike Ride, as spectators lined part of the route,
with many waving and cheering as the cyclists rode by.
The slogans painted on their bodies included "Burn fat not oil", "I'm safer on my broom" and "Blink (bike lanes nurture kids)".
Those opposed to the ride – 200 had signed a petition against it – stayed away, it seemed.
Patrons
of the packed Penguin Cafe and Bar at Pohara raised their glasses to
the riders. The police were present but no one was arrested.
At
the start of the event, Sergeant Arthur Clarence of Takaka police told
the cyclists to "have a good ride" but warned them that the police
would deal with anyone not wearing a helmet.
The
cyclists were from all walks of life and included musicians, artists,
tourist accommodation operators, and Golden Bay Community Board
chairman Joe Bell dressed as a white swan.
Some riders
said they were offended by Tasman Mayor John Hurley's comments on
Friday that they were "just a bunch of radicals trying to grab a
headline" and that the police should arrest any nude cyclists.
"He
obviously hasn't got the message that we need safe cycle lanes in
Golden Bay," said partially clothed Takaka backpacker hostel operator
Peter Woodward, whose dog travelled behind him in a trailer.
Wearing
nothing but a thong, Golden Bay Kayaks manager Nigel Marsden said Mr
Hurley's "inflammatory comments" had pushed him into taking part in the
ride.
Onekaka craftsman Peter Greer joined the ride wearing just a strategically placed willow basket he had made.
"The
mayor is obviously not in touch with his constituents. We have to do
something about the lack of safe bike lanes. If we have to bare all to
get some attention, we will do it," Mr Greer said.
One
of the cyclists riding totally au naturel was Golden Bay resident John
Calermbo. "It's a marvellous way of shrugging off the shackles and
letting your hair down," he said.
Musicians Caitlin and
Sika Rose, of Clifton, rode with their two children, seven-year-old
Shemaya and toddler Jaya, in bike seats.
"It's about the safety of future generations. We want our children to be able to cycle to their friends' houses," Mr Rose said.
The
ride finished at Pohara's Totally Roasted cafe, where prizes donated by
local residents and businesses were awarded for the most glamorous,
funniest and most visible costumes, and the best environmental message.
Organiser Victoria Davis said the event had been a great success. "I'd like to thank the police for taking a sensible stand."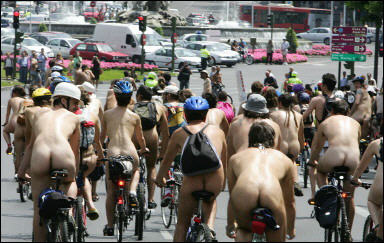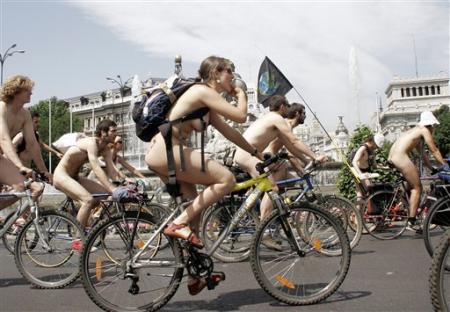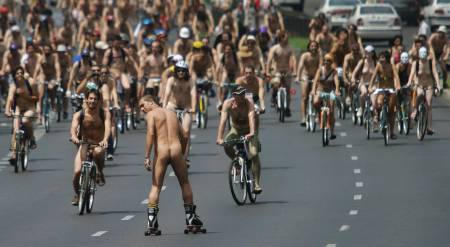 This gentleman does not appear to be using proper skating safety gear.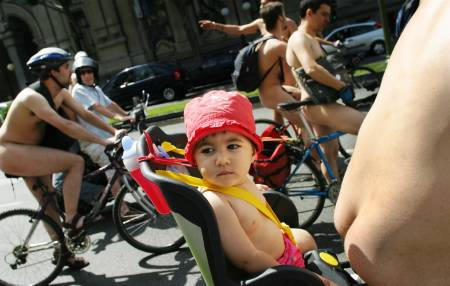 Of course, in any naked ride, some people will have a worse view than others.
Naturally the following day is the annual "cleaning of the bike seats".