Forget fancy camcorder phones and wireless internet routers; the future's most innovative gadgets come in a strapless size 4.

And we're not talking about just any size 4. These fetching gowns
will come complete with remote controls, global positioning systems and
radio frequency identification tags, making catwalk shows look more
like scenes from Mission Impossible than showcases of exclusive designer wear. Why? With the rapid merging of fashion and technology, future brands of haute couture will probably owe more to Cisco Systems than Coco Chanel.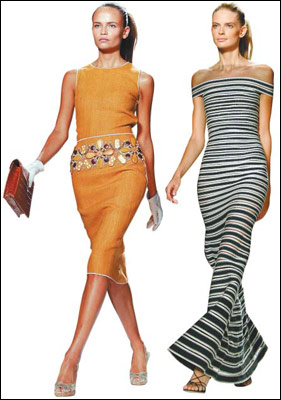 Designers have been experimenting with innovative materials for
years. Once-revolutionary synthetic fabrics such as polyester, Spandex,
Gore-Tex and Ultrasuede are now used in a wide range of apparel and
footwear. Recently, hip, Los Angeles-based denim designer Serfontaine
Jeans started using DuPont's Lycra T400, which is made from
multicomponent yarns, to create stretch jeans that don't lose their
elasticity, thereby virtually eliminating the need for a belt.
But we're not just talking about clothes made with cool fabrics that
retain their shapes or better resist stains — what's known as "smart
clothing." We're also talking about clothing with new technology
incorporated into its design, aka "wearable technology." Many companies
are already blending fashion and technology in a limited way:
Burlington, Vermont-based snowboard maker Burton sells the Clone Mini
Disc Jacket, which is a coat with a built-in Sony mini disc player and
a remote control sewn into the sleeve. And to help fashion-forward
customers keep even cooler during the summer, Japanese company
Kuuchoufuku makes jackets with built-in fans.
But the real high-tech designs of the future have yet to reach the
stores. These will consist mainly of technologically enabled fabrics
and garments that are only being sketched out in ateliers and research
labs around the world.
According to Marshal Cohen, chief industry analyst of Port
Washington, New York-based NPD Group, wearable technology still
accounts for less than 1 percent of the U.S. fashion industry's retail
sales. Although this sector is still in its infancy, the fashion
industry as a whole is exhibiting solid growth. Last year, total U.S.
apparel sales reached $181 billion, an almost 4 percent increase from
2004.
However, Cohen says wearable technology will eventually become a
basic commodity, much like bluejeans. "Why buy a basic pair of khakis
when future ones will be able to keep your legs warm with heating coils
built into the lining? The future of technology in fiber and products
is only a few years away."
As usual, expect to see wearable tech and smart clothing first
adopted by fringe groups such as skiers and students before the
concepts catch on with the mainstream. NPD expects that ski-wear and
active-wear companies, such as Nike, Columbia Sportswear, Adidas and
Timberland, will be the most likely to drive development. Last year,
Adidas released Adidas 1 footwear, a running shoe with an embedded
microchip that monitors the terrain underfoot and accordingly adjusts
the level of shock absorption provided by the shoe's
heel.
Students at the Media Lab at the Massachusetts Institute of
Technology believe young men with a keen interest in technology are
more likely to embrace wearable technology trends than are women, who
will prefer "computational clothing," which does not sacrifice its
aesthetic value for the sake of technology.
In London, it's not just clothing that is becoming technical —
designers are innovating with the way clothes are fitted. Bodymetrics,
a London-based fashion-technology firm, and Serfontaine Jeans have
joined together to create the world's first pair of perfectly fitted
jeans. Using a light scanner, Bodymetrics has created a pod to scan a
client's body and record exact body measurements.
Once in their underwear, clients stand in a pitch-black chamber
while a light flashes over their body for eight seconds. Their
measurements are then recorded and a pair of "perfect fit" jeans arrive
in the mail within two weeks — for $530 a pop, or more than twice the
price of a regular pair of Serfontaine jeans.
But innovative clothing need not be so expensive. Students at MIT's
Media Lab are also experimenting with affordable wearable tech. Using
fabrics imbued with various metals, such as organza, copper, carbon and
stainless steel, they have produced conductive clothing that is still
soft to the touch. Amanda Parkes, an MIT student, has been studying how
"nitinol" — an acronym for Nickel Titanium Naval Ordnance Laboratory,
it's a material that contains a nearly equal mixture of nickel and
titanium — changes shape during fluctuations in temperature. With the
application of a small amount of heat, a nitinol-based long-sleeve
shirt can become short-sleeved in seconds, while still being able to
revert back to its original shape.

Photo by: Rebecca HarmanSome ideas are even more radical. Suzanne Lee, a senior professor at St. Martin's School of Fashion in London and the author of Fashioning the Future,
describes a " spray-on dress" made from a chemical formula that allows
you to create a temporary dress from virtually nothing. The chemical is
sprayed directly onto the skin to form a cloud of non-woven cloth,
which can be styled as desired. At the MIT Media Lab, students have
also conjured up "epi-skin," a piece of jewelry made from epithelial
skin cells that are cultured in the lab and grown in a test tube.
By Mmoma Ejiofor
Forbes.com