NASA is again planning to fly to the moon — but this time, instead of just a visit, astronauts are to build a permanent base.
Such a lunar base is an important step toward the most ambitious undertaking in history: putting human beings on Mars, The
Washington
Post
reported Monday.
U.S. President George Bush in 2004 announced plans to build a new spaceship and return to the moon by 2020. But that timetable is n question, since
NASA
is spending about 40 percent of its budget on space shuttle and international space station programs, the Post said.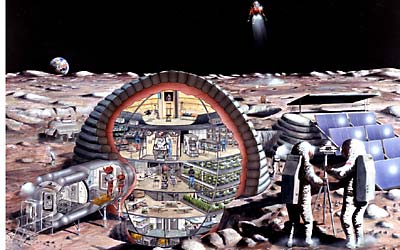 Before a lunar base becomes a reality, NASA scientists and engineers must answer such questions as how to handle the psychological stress of moon
settlement
, will working in one-sixth of Earth's gravity for a year cause crippling health problems, and what happens if an astronaut suffers an
injury
that can't be treated by other astronauts?
It's like Magellan, planetary scientist Wendell Mendell, manager of NASA's
Office
for Human Exploration Science, said during the recently concluded Lunar and Planetary Science Conference in Houston. You send them off, and maybe they come back, maybe they don't.