A super tiny ecological car that can nip through peak-hour gridlock was launched in Britain today after three years of research financed by the EU.

The three-wheeled, 1m-wide vehicle runs on natural gas and consumes 2.5 litres of fuel per 100km.
Known as the Clever – Compact Low Emission Vehicle for Urban Transport – the streamlined car is easy to park and can transport a driver and one passenger, seated in the back.
Researchers from Bath University, western England, have been testing a prototype of the car, which is the product of a jointly-run project by engineers from Britain, France, Germany and Austria in collaboration with BMW.
The Bath team developed a unique tilting suspension on the vehicle.
The car's chassis tilts automatically, like a motorbike, as it turns corners, helping it remain stable.

Dr Geraint Owen, senior lecturer in mechanical engineering at Bath University said: "It's the first vehicle that has used hydraulics to enable it to move like a motorcycle, but to drive like a car."
The project was financed with £1.5 million ($3.6 million) from the EU.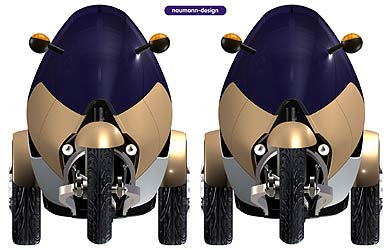 Five of the cars have been produced so far, but Owen said Brussels was considering trials in other cities.
The estimated cost of production, if mass-produced, is between £5000 ($12,005) and £10,000 ($24,009.)
With a maximum speed of 60 miles (about 100km) per hour, the car goes from 0-to-40 miles per hour in seven seconds.