Shop window mannequins should have the figures of "real women". A vocal group now fears the unrealistic proportions of models in shops could be contributing to the rise of eating disorders.

Over the past 50 years, the average dress size has increased from 12 to 16. The average woman's weight has gone up from eight to 11 stone.
But most high street fashion stores, including Mango, Topshop and Zara, use mannequins that fit a size six to 10. At 5ft 10in, most are also five inches taller than the average woman.
A spokesman for the Eating Disorder Association said: "The reason the stores have these proportions is because the mannequins are normally standing above shoppers, so as they look upwards the dummies look shorter and squatter than they really are.
"But of course this doesn't change the fact that they still look slim."
Officials in Andalusia, Spain, have already banned the use of mannequins smaller than the average Spanish woman.
The Spanish government is hoping to implement this across the country. "We would welcome any ruling that puts less pressure on women to get thinner," said the Eating Disorder Association spokesman.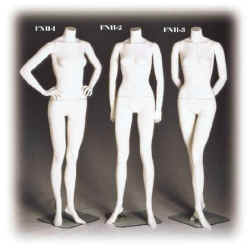 "They are already inundated with unrealistic images as it is.
"It is down to advertising and what companies think will help sell their clothes."
A spokesman for Spanish-owned Zara, said: "We use the standard mannequins from our supplier.
"We would be happy to use larger sizes if they became available."