Dozens of babies are being born every year to women over the age of 50 who have had IVF (in vitro fertilization).

Each year, about 100 women aged 50 or more receive treatment at private fertility clinics, which charge about £5,000 for each attempt to give them a test-tube baby, using a donor egg from a younger woman. More than 20 go on to have a baby.
According to the Human Fertilization and Embryology Authority (HFEA), between 1992 and 2002 the total number of IVF births to women of all ages trebled.
During the same period, however, the number of attempts to become pregnant through IVF in women aged over 50 – and the number of babies born to them – both increased 24-fold.
The argument over older IVF mothers erupted last week when it emerged that Patricia Rashbrook, a 63-year-old child psychologist, is seven months pregnant with a baby boy conceived after IVF, using a donor egg and her 60-year-old husband John's sperm.
Although Dr Rashbrook, a mother of three children from Lewes, East Sussex, travelled to the former Soviet Union for the £7,000 treatment by the controversial Italian fertility specialist, Severino Antinori, and was not seen or treated by British specialists, the case reignited the debate over the rights of older women to use IVF to bear children.
The National Health Service currently refuses free IVF treatment to women over 39, forcing would-be mothers over that age to pay for private treatment. However, the HFEA figures reveal that doctors are not adhering to an "unofficial" guideline to refuse treatment to women over the age of 49. The guideline is intended to limit the potential health risks to mother and child.
Amid mounting concern that IVF is being used to extend fertility beyond the limits of what is ethically acceptable, a leading expert yesterday called on the HFEA, which currently allows clinicians to decide on eligibility for IVF, to set an age limit for those who want the treatment.
Mohammed Taranissi, a fertility specialist, of the Assisted Reproduction and Gynæcology Centre in London, said: "There should be an agreed upper age limit. I am trying to help nature achieve what it is meant to achieve, and that is not about giving children to 63-year-old women, or women of 50 and over. The HFEA is there to deal with these sorts of matters and it should stop sitting on the fence and do something."
Dr Richard Kennedy, of the British Fertility Society, said: "These HFEA figures are a concern. We thought it was a handful of women around that age being treated, because the majority of doctors will draw the line, but there will always be those who are more cavalier.
"Maybe we haven't self-regulated well enough, but I would argue against the HFEA regulating this issue.
"We need to make clear that there is an increasing strain put on the health of women going through assisted conception over the age of 50 and there is serious concern about the welfare of the child."
However, Prof Ian Craft, whose London Fertility Centre treats women up to the age of 56 and, in some exceptional cases, beyond that age, said: "People are always quick to judge, but we need to treat women with compassion."
He said that, between January and December 2002, 16 of the 24 live births to women over 50 were at his clinic, but said: "Other clinics may say they're not doing it, but how can this be true? We account for the majority, but there is treatment going on elsewhere."
The HFEA figures reveal that in 1992 there was only one live birth to a woman over 50 who had undergone IVF treatment. By 2002, the last year for which full figures are available, the number had risen to 24.
They also show that, during the same period, the number of women aged between 45 and 49 having IVF treatment quadrupled, with the number of live births rising from 15 to 106.
Experts say that it is not technically difficult to create a pregnancy in a post-menopausal woman, because the treatment uses donor eggs from a young, healthy woman. This avoids the main problem faced by women in their thirties and forties undergoing IVF – poor egg quality, which leads to repeated failure.
In the case of post-menopausal women, doctors put their patients on a course of HRT to stimulate and prepare their wombs to receive IVF embryos.
However, there are concerns that pregnant post-menopausal women face an increased risk of heart attack, stroke and haemorrhaging and, because of the additional pressure placed on their older bodies, are more susceptible to high blood pressure, pre-eclampsia and diabetes.
Last week, Dr Rashbrook insisted that the decision to have a baby so late in life had not been "undertaken lightly". She said: "We wish to emphasise that this has not been an endeavour undertaken lightly, that a great deal of thought has been given to planning and providing for the child's present and future well-being, medically, socially and materially… We are very happy to have given life to an already much-loved baby and our wish now is to give him the peace and security he needs."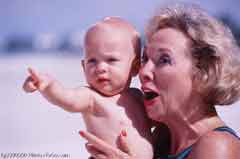 Vishnee Sauntoo, a spokesman for the HFEA, said: "There is no age limit to fertility treatment set down in United Kingdom law and whether a particular person is treated is left to clinical judgement. The law says clinics must take into account the welfare of the child – including health, age, and ability to provide for the needs of the child – as well as the risk of serious medical, physical or psychological harm."