China is drifting away from overreliance on cheap, low-end goods to more value-added products, reported the Financial Times Monday.

The booming country witnessed a 30 to 150 per cent rise in the exports of telecommunications equipment, auto parts, software and ships since 2005, a Deutsche Bank report was cited as saying, while the low-end exports are running out of steam.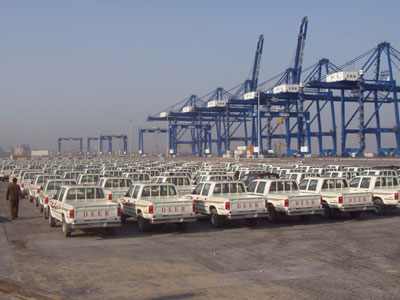 Vehicles wait to be exported to Saudi Arabia in a port in Tianjin
In the first 11 months of last year, China exported 12,000 more vehilces than import, statistics showed.
"Across a wide range of machinery and industrial intermediate goods, China is now a net exporter," Arthur Kroeber of Dragonomics, a consultancy in Beijing was quoted.
The change of exports composition indicated that China is getting more competitive in industries where it could hardly match the developed countries in the 1990s.
The transformation was attributed to three factors: rising wages which have pushed some low-end manufactures offshore, increased policy support for high-end products and growing private sector.
"Private enterprises have been growing much faster than state enterprises, and many of the private firms have moved quickly into the high-end products to capture the market and profit margins," said Jun Ma, chief China economist for Deutsche Bank.
The bank estimates high-end exports will grow for 30-40 per cent a year for the next three to five years with some sectors, such as auto parts and software outsourcing.
China expects its sales overseas of software to grow to US$12.5 billion from US$3.59 billion in 2005, according to an industry blueprint for 2006-2010.
The high-end goods, with less market share in the global market, have more space to grow, whereas cheap traditional exports, such as toys, where China already has 80 per cent share of US imports, have run out of steam, the FT report said.
The report summed up China's advantages for developing its newer industris: cheap labor, low production cost, including cheaper land and steel and less pressure to account for the real cost of environmental destruction.