An FBI computer consultant gained access to the secret passwords of Director Robert Mueller and others using free software found on the Internet, the latest embarrassment in the bureau's long struggle to modernize its computers.

The consultant, Joseph Thomas Colon of Springfield, Ill., has pleaded guilty to four misdemeanor counts of intentionally exceeding his authorized computer access, and prosecutors are recommending roughly a year in prison.
Colon's lawyer is asking U.S. District Judge Richard Leon for probation, contending that an employee in the FBI's Springfield office gave Colon a password to get into the secret system to speed the installation of a new computer system. The work was part of the ill-fated Trilogy project that Mueller abandoned last year.
Prosecutors do not believe Colon was trying to damage national security or use the information for financial gain. Still, they said in court papers, the FBI was forced to take significant steps to make sure there was no harm from Colon's actions.
His sentencing was postponed on Tuesday and reset for July 13.
Colon, 28, lost his job and security clearance after acknowledging that he made his way into the deepest reaches of the FBI's internal computer network on four occasions in 2004.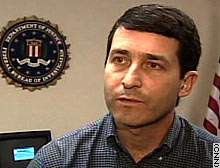 He used two computer programs to extract the information and decode the passwords of Mueller and others, according to his plea agreement.
It was unclear from court documents why he sought so many passwords.
The FBI would not comment on details of the case. Colon's lawyer, Richard Winelander, did not respond to messages Thursday from The Associated Press.
In court papers, Colon argues that by March 2004, he and FBI information technology employees in Springfield had grown frustrated with bureaucratic delays in performing "such routine and mundane tasks as setting up workstations, printers, user accounts and to move individual computers from one operating system to another."
One employee, identified by Colon as an FBI agent, gave him a password he could use to avoid the delays. That password got Colon into the secret user name and password file.
The FBI has beefed up its systems to guard against unauthorized access, FBI spokesman Paul Bresson said.
The FBI has spent nearly $600 million to put in place a high-speed, secure computer network and 30,000 new desktop computers. The Trilogy technology upgrade was begun even before the attacks of Sept. 11, 2001, highlighted computer problems at the FBI.
But Mueller scrapped the final phase of the program, a paperless case management system called Virtual Case File after consultants said it was obsolete and riddled with problems.
In March, the FBI said it would spend an additional $425 million to build and run the Sentinel system. It is expected to be finished in late 2009.