When Scottish art dealer Alexander Reid returned from Paris in 1887 with two paintings by Vincent van Gogh, his father berated him for bringing such "atrocities" home and sold them to a French dealer for five pounds ($9) each.

It did not matter that the paintings, a portrait of Reid and a still life of a basket of apples, were in fact gifts to the young Scot, who had lived for several months in Paris with Vincent and his brother, Theo, in Montmartre in 1886-87.
The two paintings and another van Gogh portrait of Reid are included in an exhibition of the Dutch painter's works that opened recently at Edinburgh's Dean Gallery, part of the National Galleries of Scotland. It runs to September 24.
The exhibition is based on British "pioneer collectors" who were among the first to appreciate Impressionist painters.
Frances Fowle, curator of the exhibition, said the anecdote about the sale of the two paintings by James Reid came in a book by Scottish student Alexander Hartrick, who met van Gogh in Paris in 1887.
Fowle said that in later life Alexander Reid, who became a major art dealer, bemoaned the sale of his two paintings and that "he hadn't realized what a great artist van Gogh would turn out to be and how marketable he would be."
Hartrick himself almost bought another still life with apples for two francs, but decided not to because he would have to carry it back to his hotel.
A century later, a van Gogh still life of 15 sunflowers was sold to Japanese insurance magnate Yasuo Goto for some 40 million dollars at auction in London in March 1987.
Van Gogh's two portraits of Alexander Reid in the exhibition, brought together for the first time, provide an insight into the evolution of his painting style.
The earlier portrait, with Alexander seated in an armchair, was painted shortly after he moved into the apartment.
"He still has that Realist style that he inherited from his time in the Netherlands … so he had a much darker tone of pallet," said Fowle.
"But then you can see as soon as he got to Paris, his pallet lightened and I think the interest in neo-Impressionism is very clear in the second portrait."
Fowle also noted that Reid and van Gogh were remarkably similar physically.
"They were taken as twins and these portraits were originally catalogued as self-portraits (of van Gogh)."
The first portrait is now at the art museum of the University of Oklahoma in the United States, while the second is in Glasgow's Kelvingrove Art Gallery and Museum.
Fowle said Reid apparently acquired the still life of a basket of apples after setting out on a painting expedition with van Gogh.
"Van Gogh saw the apples in a market stall and decided he had to paint them. He didn't have any money on him, so Reid lent him the money or gave him the money, and he marched off back home with his apples.
"At the end of the day he was presented with this picture — that's the story, anyway."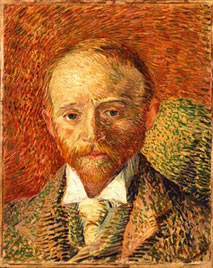 Portrait of Alexander Reid by Vincent van Gogh in an undated photo.