China's first facial transplant patient was discharged Friday after undergoing successful surgery in Xijing Hospital in northwest China's Shaanxi Province.

Patient Li Guoxing returned home Friday for a week-long visit to his family in southwest China's Yunnan Province. He has not seen his wife and two children since he entered hospital.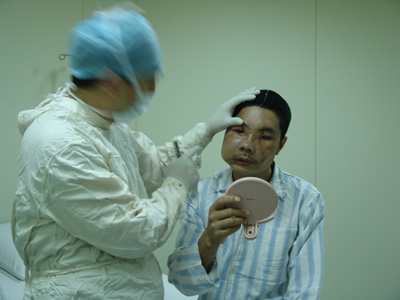 Li Guoxing, who received China's first face transplant, looks at himself in a mirror as a doctor gives him an optical check in Xijing Hospital in Xi'an, capital of Shaanxi Province April 25, 2006.
The 30-year old patient, whose face was terribly disfigured in 2004 after an attack by a bear, received a partial face transplant operation at the hospital in April, the second operation of its kind following a French female patient last year.
During the 14-hour procedure that ended on April 14, Li was given a new cheek, upper lip, nose and an eyebrow, all from a single donor.
The transplanted part of his face is alive and Li has been doing well, said Guo Shuzhong, director of the hospital's plastic surgery department who directed the operation.
Before leaving the hospital in Xi'an, Li, wearing blue-black clothes, attended a news briefing held specifically for his departure.
The swelling on the transplanted part of his face has now almost disappeared, making his face seem more natural.
Looking cheerful, Li spoke to reporters in simple Chinese. Prior to coming for surgery, he could only speak the dialect of his Lisu ethnic minority.
He expressed thanks to the doctors and nurses of the hospital in standard Chinese, and said he was "very happy to go home".
His upper lip now has a small mustache and some acne has appeared on the right part of his face in the past few days. Guo said all this showed that he was recovering well.
Two doctors accompanied Li to his home, a mountainous village in Yunnan. They first flew to Kunming, the provincial capital, and continued from there by bus.
Given the poor living and medical conditions in his hometown, Li will return to the hospital after the seven-day visit, according to Guo.
Further plastic surgery will be carried out in two or three weeks, to make the right part of his face, his lips and eyes seem more natural, according to Guo.
Because Li is very poor, the hospital is paying all his treatment fees, Guo said.
The Natural Conservancy, a leading US-based nonprofit organization, which studied the living conditions of black bears in Yunnan, helped Li apply for the surgery.
Surgeons in France carried out the world's first such operation on 38-year-old Isabelle Dinoire whose lips and nose were ripped off by a dog.