The reluctance of young Chinese to tie the knot, a common cause of friction between parents and their grown-up children, has been given fresh impetus with news that almost one in four Chinese brides regrets saying "I do."

A survey of newly-weds, married in the last three years, found that if they could have their time again more than 24 per cent of wives would either choose a different husband or not marry at all.
Having celebrated her nuptials less than a year ago, Wen Jun, 29, already considers her marriage a failure.
"Our relationship is so different to how it was before," said Wen, who lives with her husband and his parents in a small downtown apartment.
"Marriage is really tough. It's not just two people living together forever, it's six his parents, my parents and us, all trying to get along."
Wen, clearly, is not alone.
Of 1,073 newly-wed couples surveyed in 10 cities around the country by dating website marry5.com, only 75.4 per cent of wives said they would stick with their current husband if they could choose again.
More than 10 per cent of wives said that if they had known before getting married what they know now they would have chosen a different husband, and nearly one in eight said they wished they had stayed single.
And things get worse, with almost two thirds of wives admitting to having regretted their marriages at some point.
Suggesting that even unhappy couples can agree on something, the figures for regretful husbands were almost identical to those for wives, although the dating company did not release how closely couples' answers correlated.
However, according to sociologist Xu Anqi, occasional feelings of "what if?" are no cause for undue concern.
"After getting married couples suddenly face a lot more responsibilities such running a home, raising babies and getting along with each other's parents," she said.
"The first few years of marriage are often punctuated with quarrels and disagreements, but that is natural as people learn to adapt to one another's needs."
Professor Yue Guoan of Nankai University suggested increasing marital friction was a sign of growing openness.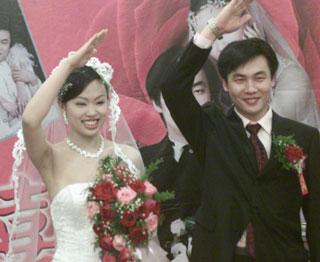 "People feel freer expressing their true thoughts and feelings now, even if they might upset their partner," he said.
And with wives saying their marriage would be happiest if their husband focused on money and a good job, as long as he didn't devote too much time to work, it is hardly surprising there are arguments as men try to meet a notoriously difficult trio of demands, Yue explained.
The average age the 1,037 couples married at was 29.2 for men and 27.1 for women, rising to 31.1 and 28.4 respectively in Shanghai.
Yuan Yue, chairman of Horizon Research Consultancy Group, who undertook the survey on the website's behalf, said Shanghai's later marriages were a result of the city's women having higher expectations of their men than women elsewhere.