Shopping in hypermarkets, Eric Wu often keeps an eye out for store managers' photos hanging on the wall. If he is impressed by the performance of the sales people, he may even jot down the name of the manager. Wu, a consultant at Career International, one of the nation's largest headhunters, specializes in the retail sector and last year, he and his team poached more than 30 senior executives for retailers.

"Retail people are 'hot' these days, as almost every retailer has an expansion plan," says Wu.
The demand for retail talents will only intensify as the government orchestrates the amalgamation of domestic retail enterprises in major cities to form giant groups that can face up to the might of such foreign behemoths as Carrefour and Wal-Mart.
This programme, first mooted in 2004, has begun to take shape, first in Shanghai and more recently in Beijing. The success of such mega-mergers will have a far-reaching impact not only on the retail landscape of the country but also on all the businesses along the huge supply chain.
After decades of rapid economic growth, China is starting to show the potential of an enormous consumer market. Retail sales are expected to expand by 13 per cent to 7.5 trillion yuan (US$937.5 billion) this year, making the nation the world's seventh-largest retail market.
The Ministry of Commerce says the figure will balloon to 10 trillion yuan (US$1.25 trillion) by 2010 at an annual growth of more than 11 per cent.
The rosy prospects have already lured a slew of the world's top retailers into the market, including France's Carrefour SA and US-based Wal-Mart Stores Inc, which have spent years preparing for the boom.
Last year was undoubtedly the starting point of their rapid expansion, as China lifted most restrictions on foreign retailers at the end of 2004, including limits on the number of stores, location and the ownership ceiling, thanks to its commitments to the World Trade Organization.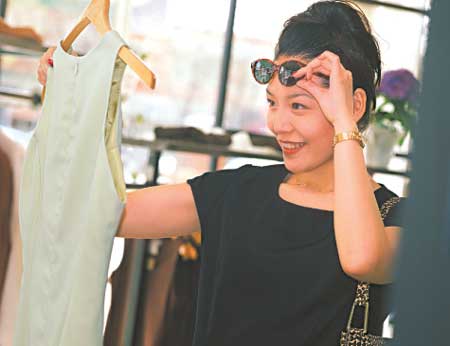 According to the China Chain Store & Franchise Association (CCFA), there were 18 foreign companies among the country's top 100 retailers in 2005, compared with just 12 the previous year.
They also raked in exceptional profits. According to the China Retail Research Centre of Beijing-based Tsinghua University, the average gross profit margin of foreign retailer stands at 28 per cent, compared with 10 per cent for their local competitors.
Moreover, foreign retailers established 1,027 enterprises in China last year, equivalent to the total number in the previous 12 years.
Yet, more are arriving with the lifting of rules restricting foreign chains to a handful of big cities. Metro will open six to 10 stores annually before 2008; and Wal-Mart plans to build 14 more stores in the second half of this year.
While consumers happily pay for croissants at Carrefour, order furniture at IKEA, and purchase boxes of Pepsi at Metro, the multinationals' success has led to concerns about the threat to the growth of local players.
"One reason behind the rush to expand is to snap up prime commercial locations, which are a limited resource in any city," said Pei Liang, general sectary of CCFA.
And in this frenzy, local retailers are at a disadvantage compared with their foreign competitors, which have much deeper pockets. Industry insiders say it usually costs more than 100 million yuan (US$12.5 million) to set up a hypermarket with a business area of 20,000 square metres a significant sum for local retailers.
To add insult to injury, foreign retailers often enjoy more favourable treatment with some local government eager to woo foreign investment at any cost.
"Fortune 500 companies like Wal-Mart can bargain for land from the local governments at much cheaper prices, sometimes at a discount of 15 million yuan (US$1.88 million) for 10,000 square metres," an unnamed senior manager from a foreign retailer is quoted as saying. "And some local governments even earmark land for top multinational retailers."
In the face of the invasion from foreign players, major domestic retailers are pulling out the stops to catch up both in size and capacity. Meanwhile, local governments are also trying to regroup State-owned retailers to form domestic giants.
In late 2004, the Ministry of Commerce said it would lend support to 20 of the country's retail businesses as they faced up to prepare for increased foreign competition.
Shanghai Brilliance (Group) Co, set up in April 2003, was China's first retail conglomerate created by government-led consolidation. Four big State-owned retail enterprises Shanghai Yibai (Group) Co, Hualian (Group) Co, Shanghai Friendship (Group) Co and Shanghai Materials (Group) Co were incorporated into the retail giant, which became China's largest retailer.
Other retailers went through a wave of mergers and acquisitions. Last month, Wumart Stores Inc, the largest retail chain in Beijing, bought MerryMart, the fourth-largest retailer by size in the Beijing area to consolidate its leadership in the city. Gome, the nation's largest home appliance retailer, bought China Paradise, the third largest player in the sector, after US-based Best Buy acquired Jiangsu Five Star Appliance in May.
Local retailers expect the consolidation to reduce costs and fierce competition, but industry insiders warn the craze for size can be dangerous.
"Local companies should pay more attention to the improvement of overall efficiency and management rather than just focusing on size during expansion," says Celia Shen, senior manager of consultant BearingPoint, adding that some merger cases have already fallen into the trap of chasing size rather than efficiency.
For instance, in early 2005, Shanghai Brilliance (Group) Co bought 60 per cent of Dalian-based Dashang Group Co Ltd, the second largest player in the sector, hoping to create a local retail giant. Despite the formidable size, the alliance lasted only lasted one and half years. Last month, Brilliance decided to pull out its investment in the joint venture after struggling to integrate the companies' businesses.
"Local retailers, especially medium-sized ones, could focus on regional markets or even some niche markets, try to establish their dominance in such markets and thus strengthen their competitiveness," says Huang Guoxiong, a professor of economics at Renmin University in Beijing.
Some local retailers like Beijing-based Wumart have already made that part of their growth strategy. The Beijing-based retailer had 12 hypermarkets as well as 47 supermarkets and 436 mini-marts at the end of 2005, most of which are located in the capital and Tianjin.
"Wherever we go, we try to be the leading player in the local market, and have the largest number of stores," says Xu Ying, Wumart's director of finance. "The strategy allows us to apply more management tools such as IT systems and reduce costs in the regional market."
Wumart bought Yinchuan Xinhua Co in April as part of its expansion outside Beijing. Yinchuan Xinhua, with four department stores and 23 supermarkets in Yinchuan, owns the largest market share in the capital city of the Ningxia Hui Autonomous Region.