Now this is an idea that simply had to happen. Just pop the end on these batteries to reveal a built in connector and charger, then plug into any powered USB port on your desktop, laptop, keyboard, games console, etc to charge the battery. Currently available in the AA format, the USBCELL will shortly comprise a full range of standard formats, phone and camera batteries.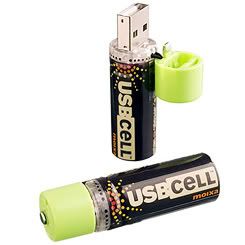 This NiMH AA cell can be used like a normal battery and can be recharged simply by plugging into a USB port.
Portability
No need for a separate charger or cables when travelling. Built in intelligent USB charger

Swap and Play
Easily charge cells in your game station and just swap over to continue play

Top-Up
Charging for just a few minutes provides extra hours of instant use for most input devices.