The change in motorcycle evolution will be taking a huge leap forward when these new electric cycles hit the market. Electric dirt bikes offer several compelling advantages over their current petrol-burning brethren, the most significant being they are completely silent. There is nothing more out of place in the forest than the bark of a four-stroke or the staccato rasp of a two-stroke – at complete odds with the tranquility of the wilderness and quite capable of spoiling the experience for those ten miles away, motorcycling without the noise is long overdue. For this reason, bikes are essentially banned from suburbia. Proof of just how far electric dirt bikes have come is the US$5,500 Drift XC bike from Electricross.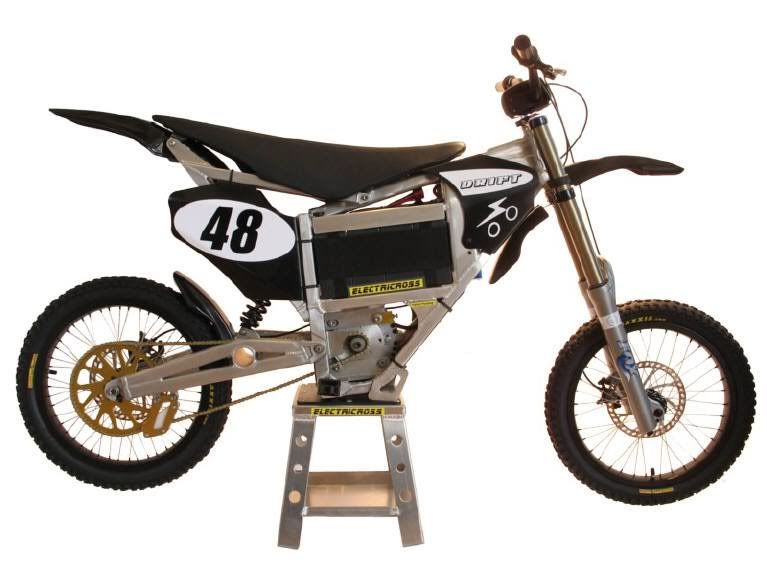 Drift XC bike from
Electricross
It is an intermediate sized bike, but weights only 140 pounds with the power pack and 80 pounds without. The power pack is easily removable for transporting. The off-road suspension features 7 to 8 inches of suspension travel in the front and 8 inches in the rear. The fully tunable motor controller allows a custom power and speed map to be loaded to tailor the throttle response from "trail riding" to "racetrack" or anywhere in between. The power can be easily turned down for younger riders making the Drift suitable for a wide range of abilities. The controller is adjusted by hooking a cable up to your computer and running a software program that is provided. The software is easy to use and the controller can even record data as you ride so you can see where you've got the throttle open and where you haven't.
A half power switch is also an option. At the flick of a switch the top speed and power is cut in half. This is perfect for beginner riders or for the occasional ride down the street in the bike lane. The switch extends the life of the battery considerably. With the reduced top speed the bike can technically qualify as a motorized bicycle and be ridden in the bicycle lane for commuting in most states. Check your own state laws at the DMV.
Size

The Drift is an intermediate sized bike. Perfect for young adult and adult riders, but small enough to be carried in a SUV or on our hitch rack. The size is similar to a Honda CRF150 (but with 3 times the power).