How many of us haven't fingerprinted or written words on the back of a friends dusty jalopy? Imagine lifting your finger to find you've created a Mona Lisa on the rear glass. Scott Wade of San Marcos, TX is perhaps the only person who could say he's done this.


Living on an unpaved road ensures that the back glass of Wade's MINI Cooper always has a willing canvas.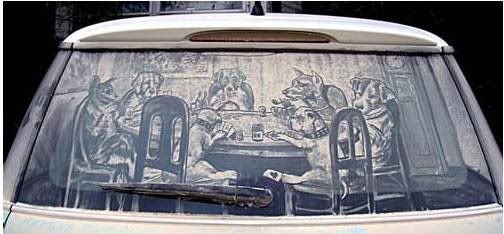 When the dust gets thick on the back window of his Mini Cooper, Scott Wade uses it as a canvas to create temporary works of art. Among his creations was a copy of C.M. Coolidge's 'A Friend in Need,' better known as dogs playing poker.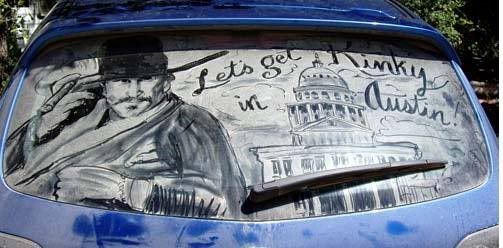 A portrait of Kinky Friedman on the back of the Mazda driven by Wade's wife, Robin Wood, was featured on the gubernatorial candidate's Web site.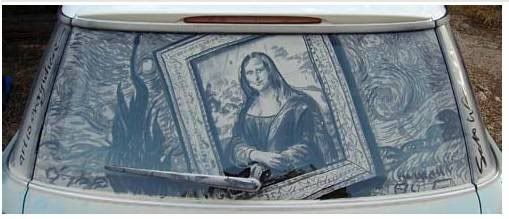 The above pic shows his homage to Van Gogh's 'Starry Night' and Da Vinci's 'Mona Lisa'.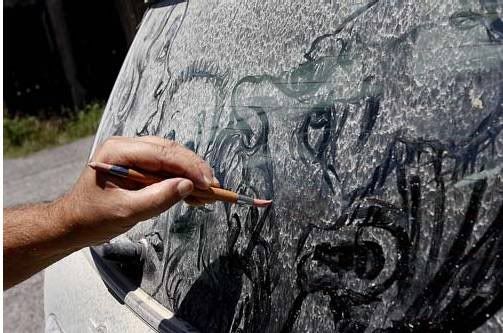 In addition to his fingers, Wade also uses more traditional tools like brushes as well as unconventional ones like popsicle sticks to create his inspired dust art.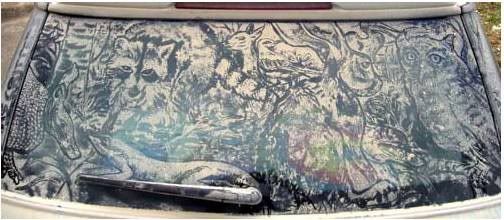 Google Wade's name and "dusty" and you get more than 71,000 hits — a good percentage of them leading to the 47-year-old artist, graphic artist and musician whose "parents never let me play in the dirt when I was a little kid." And since he launched his own Web site (dirtycarart.com) recently, one day's visitors numbered more than 55,000.
"Who would have guessed that people want to look at dirty pictures on the Internet," Wade quipped. "It's crazy."