With fewer than 200 airports certified to handle transport category aircraft, China will have to move mountains of earth to ensure that ground infrastructure keeps pace with the rapid development of air travel.

If China is to become the world's largest aviation market by 2020, it will have to move mountains of earth to provide enough runways. The country has just 196 certified airports for transport aircraft and 329 "GA Temporary Landing Points" to serve a population of just over 1.3 billion. By comparison, the US with 270 million people has 14,807 airports, while Australia with just over 20 million has 444 and tiny Iceland has 100.
The challenge is not only to increase the number of airports but to improve existing infrastructure as well. China has spent $30 billion since 1990 upgrading 90 landing fields and building 47 new airports. Currently, 133 airports are served by airlines. Of these, just 39 account for 93.5% of total traffic while 85 handle fewer than 500,000 passengers a year, the majority operating at a loss, according to CAAC.
To help fund the development of airports and improve their commercial viability, CAAC transferred the ownership of 90 regional facilities to local governments, giving them an incentive to invest ahead of possible privatization. That process, which was started in 2002, was completed in July 2004 and involved CNY40 billion ($4.96 billion) in assets and 50,000 staff. At the same time, Beijing, Shanghai, Xiamen and Shenzhen were privatized and listed.
CAAC commenced construction on 35 new airports in 2004, 33 of them regional facilities, and the Centre for Asia Pacific Aviation estimates that China will have 240 commercial airports by 2010. It estimates further that the capital needed to meet that infrastructure requirement will top CNY10 billion a year. But as would be expected, development has not kept up with demand and CAAC reports that 18 airports were at capacity by the end of 2005 and another 29 will join them by 2010.
According to DG-CAAC Airport Dept. Zhang Guanghui, the problem lies not only with the capital requirements of building airports but also a shortage of suitable management. Zhang told delegates at an EU-China Aviation Summit last June that the country's larger airports "are not strong enough to participate in international competition" and smaller ones "are facing strong competition from other transportation means." Despite those challenges, he is bullish, forecasting that by 2010 the number of airports served by airlines will climb from 133 to 160 and by 2020 there will be 200 such airports with total traffic of 1.4 billion passengers and 30 million tons of cargo.
The cornerstone of CAAC's current strategy is developing Beijing International, Shanghai Pudong and Baiyun International into internationally and domestically important aviation hubs and centers for both passenger and cargo operations. These airports are home bases respectively for Air China, China Eastern and China Southern, the country's three largest carriers. CAAC also wants Chengdu, Kunming, Xi'an, Wuhan, Shenyang and Wulumuqi transformed into regional hubs. But while it may want to create a hub strategy, there are many other factors at work, including unsuitable geographic location of key hubs; hubs outside China becoming points of entry, permitting more direct flights; the need for regional governments to attract airlines to justify infrastructure development; emergence of both domestic and international low-cost airlines in China; the growing role of regional jets, and the impact of regional cargo airports.
To understand the dynamics of China, one must appreciate that the country is made up of 11 ethnic groups living in 23 provinces within five autonomous regions and speaking eight major languages. There are also vast disparities in wealth, ranging from per capita GDP of $5,000 in Yuman Province to $40,000 in downtown Shanghai.
Not surprisingly, many of the provinces with low GDP are areas of higher population density. According to Airclaims' International Transport and Tourism Consultancy's "2004 Airport Analysis," Henan Province in the central-east has a population of 100 million but accounts for only 1.2% of total departing seats while the Shanghai metropolitan area has 18 million people and accounts for 16%. In industrialized Guangdong Province adjacent to Hong Kong, the two major cities of Shenzhen and Guangzhou have 18% of the population and account for 94% of total departing seats in the province.
Essentially, airline operations are concentrated in the coastal regions, with the three major cities accounting for 45.5% of departing seats in mainland China, a percentage that has changed little since 1998. In stark contrast, reports Airclaims, the large regions in the west, which represent 49% of the country's area and 12.8% of the population, produced just 0.8% of departing seats in 2004. In the international context the imbalance is even greater, with the big three cities accounting for 72% of departing seats. However, Airclaims Chief Economist Peter Morris believes that "as trade and markets develop in the rest of China, pressures will increase for direct international services for the true origin-destination markets." He adds, "While hubs may suit both [major] airport operators and airlines for awhile, inevitably the pressure for air services to benefit other regions directly will build." The cities in these areas are massivewhile Europe and the US have five cities with more than 5 million residents, China has 12.
Foreign carriers are awake to the need for more point-to-point services. Between 1998 and 2004, 44% of the capacity increase of non-Chinese airlines took place on new routes. At the end of 2004, 74 carriers were operating 1,091 weekly flights to China and eight Chinese airlines were offering 994 weekly flights to overseas destinations. Working against the big three hub strategy is their location on the coast, which makes them unsuitable for development of effective hub-and-spoke operations except for flights from the US, Japan and Korea. All other international flights require backtracking to some degree and virtually all domestic flights require backhaul.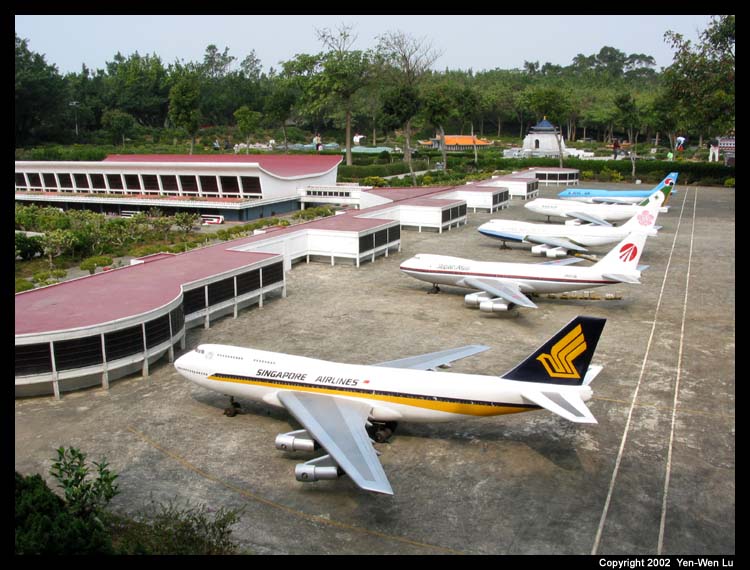 Korean Air and Asiana are cognizant of this situation and have developed their new home at Incheon as China's second gateway after Beijing. Korean has forged a strong alliance with China Southern and now serves 23 airports in China, 18 of them in its own right, and links them with 14 cities in the US. Asiana and Air China work closely together. The China-Japan market tells a similar story of point-to-point growth, with the number of city-pairs rising from nine in 1990 to 45 in 2004 including 17 destinations in China. The trend toward point-to-point is a "great joy" to Chinese regional centers and is critical for the business case to attract foreign investors for their newly acquired airports.
The country's move toward greater liberalization is helping regional airports as well. CAPA cites the fifth-freedom cargo rights granted last year to Singapore and Australia, with SIA Cargo adding a third weekly Singapore-Xiamen-Nanjing-Los Angeles service. "Smaller cities, such as Xiamen and Nanjing, which is close to Shanghai, have been major beneficiaries of China's selective liberalization policy," suggests a CAPA report, which forecasts that "the coming deregulation and liberalization phase will dwarf even the quantum steps made back in 1985 in terms of accelerating market development." In August, CAAC announced that it will open up the southwestern provinces, which include Sichuan, Yunnan and Guizhou as well as Tibet, to foreign airlines.
Most regional governments have created new airport corporations to manage and operate their airports and CAPA believes "this could be an important step in the evolution of airport management in China and possibly herald the privatization of bundles or batches of airports." This bundling would be modeled on Beijing-based Capital Airport Holdings Co., the country's largest airport company, which controls 16 airports and has a stake in another four valued at $8.3 billion. The showpiece in its portfolio is Beijing Capital International, which is undergoing a four-year, $2.5 billion expansion for the 2008 Olympics. When the new Terminal 3 is completed, the airport's capacity will be 60 million annual passengers. All up, $3.2 billion will be spent on 25 airport infrastructure projects in 2006.
CAPA Chairman Peter Harbison says that "airport ownership will prompt provincial governments to seek even greater route coverage at their capital airports to raise the value of their newly acquired assets prior to possible privatization." Adding to the equation are the move to allow commercial and retail businesses at airports to boost profitability and CAAC's phaseout of central control of landing charges. Harbison notes that this will give rise to more competition, promoting rivalry for airline services.
Provincial governments also are likely to push for greater liberalization of access for foreign carriers. China's deregulation and liberalization phase, launched just after SARS ended in late 2003, involved open skies and fifth freedom services via Hainan Island as a trial, and that was followed quickly by more liberal frameworks with a number of countries including Singapore, Australia and France in late 2003 and open skies with Thailand, Singapore and Canada in 2004 and 2005.
Meanwhile, the sleeping giant and major key to regional airport expansion is LCCs. Jim Eckes, founder of Hong Kong-based consultancy Indoswiss Aviation, puts it this way: "For 100 million Chinese flying is affordable, but for the majority it is just vapor trails high over a rice paddy or industrial estate." He says there is no question that AirAsia's success and extremely low airfares are turning heads in the corridors of power in Beijing. AirAsia plans to launch services to six destinations in China this year to build on the single route operated by Thai AirAsia from Bangkok to Xiamen. In December AirAsia Group received the first of 60 A320s (with 40 options) that will spearhead the move. Both it and Singapore-based Tiger Airways have lured Chinese citizens in Guangdong Province by operating services into Macau, a new gateway to China.
The first LCCs are focusing on airports away from the big hubs. A case in point is Okay Airlines Co. Ltd., which took to the skies last March 11 with two 737-900s subleased from Korean Air. Okay is based in Beijing but operates from Tianjin 130 km. further south to destinations such as Kunming, Changsha, Zhang Jiajie, Guilin, Hohhot, Taiyuan and Harbin.
Most of the new Chinese LCCs and private venture airlines are based at centers such as Dali, Kunming, Shijiazhuang, Wuhan, Chengdu, Chongquig and Mianyang City. Analysts like Eckes suggest that Beijing will come under intense pressure not only from provincial governments but from the wider population to ease regulations and unshackle LCCs so they can deliver lower fares. But Spring Airlines ran into problems in July when it undercut the government airlines with a $25 fare between Shanghai and Yantai and was forced by CAAC to increase the tariff to $37, although it threw in a night's hotel accommodation. The $25 fare was 70% below the normal pricebreaking a 45% maximum discount ruleand cheaper than a train ticket. Spring did have a win in September when it was permitted more freedom in deciding the type of inflight service it would provide. It offers just mineral water, charges for food and drinks, has fewer flight attendants and allows just 15 kg. of luggage.
This is all good news to regional airport owners, as is the forecast from the Aviation Industry Development Research Center that there will be 800 more 60/100-seat airplanes in service by 2025. According to China Daily, AIDRC Senior Researcher Wang Boxue said, "As [China's] economy continues to thrive, air travel between large and small cities and among medium-sized cities will become more frequent, calling for the deployment of more [regional] aircraft." Wang added that to match the forecast 20-year average growth rate of 8.4% and "support the national strategy of developing the western regions and revitalizing northeast China, the country will have to build a series of small and medium-sized airports." In fact, analysts are eyeing the western regions as the new industrial heartland because of even lower labor costs compared to the more affluent eastern provinces.
AIDRC sees RJs as an ideal tool with which new LCCs can develop with lower capital risk and higher frequencies. The absence of RJs in China today is reflected in the fact that in 2004 only 26% of its air routes averaged two or more daily flights and 59% had an average of less than one, according to CAAC data published in China Daily.
The first locally built RJs, Harbin Embraer ERJ-145s assembled in China from kits sent from Brazil, were delivered to China Southern in June 2004 but only 12 are in service with China Southern and China Eastern. Longer term, Embraer sees demand for 600 RJs in China over the next 20 years. More joy for regional airports will be the first deliveries of the 78/90-seat ARJ-21 that is expected to lift off in 2008 and begin commercial operations in 2009. The significantly cheaper local product is expected to form the backbone of the country's regional operations.
The other major driver for regional airports is inbound tourism, since some of China's greatest attractions are located well away from the big three cities. Inbound tourism arrivals exceeded 100 million in 2004 and revenue topped $25 billion, up 25% over 2002, surpassing Germany and the UK and jumping to fifth in the world. The country has 99 state-class historical and cultural cities, 750 national-class cultural relics and places of historical interest and 119 major scenic spots, 19 of which are listed as World Natural and Cultural Heritage sites.
Clearly, all signs point to continued rapid and expansive development of China's air transport infrastructure. But the government also faces a dilemma that is likely to grow in significance: Whether to continue to build a national aviation policy based on the Big Three national carriers or to encourage local initiative and development regardless of where it leads and who ultimately benefits.