Bidders, at least one them costumed, paid top dollar for Star Trek items on Thursday at the start of Christie's auction of memorabilia from the seminal television and movie franchise.

A model of the Starship Enterprise E was bought by an online bidder for $132,000 including commission, more than 10 times its $8,000 to $12,000 pre-sale estimate.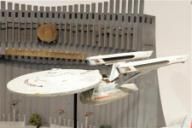 Another item, a 30-square-inch (193-square-centimeter) Borg cube model used in "Star Trek: First Contact," sold for $96,000 to a telephone bidder. Its estimated value was between $1,000 and $1,500.
The energy was definitely beyond what I expected," said Cathy Elkies, Christie's director of special collections.
With 1,000 lots of CBS Paramount Television material on offer over three days, Christie's — better known for Picassos and Monets than Starfleet banners and costumes — had anticipated a total of up to $2 million.
Prices from the first session suggested the final tally could go much higher.
Enterprise Captain Jean-Luc Picard's chair sold for more than $62,000, while a 42-inch (107-cm) bazooka-style prop rifle used by Michael Dorn as Worf in "Star Trek: Insurrection" fetched $19,200 after being estimated at between $600 and $800.
The auction, which marks the 40th anniversary of the "Star Trek" phenomenon, ends on Saturday when some of the most coveted items, including costumes worn by William Shatner as Captain James T. Kirk and Leonard Nimoy as Mr. Spock from the original 1966 television series, go on the block.
A bidder who came dressed as Picard bought actor Ron Perlman's vinyl jumpsuit from "Star Trek: Nemesis" for $6,000.
"It's with Picard then," the auctioneer said during bidding, adding, "A sentence I never thought I'd say."