Whenever fashion and technology meet, the end result is usually a bit absurd, and a bit playful, however this time round, the fusion has been approached from the perspective of a fashion designer called Hussein Chalayan with the result being a mesmerizing collection of clothes that elegantly redesign themselves thanks to complex, hidden animatronics.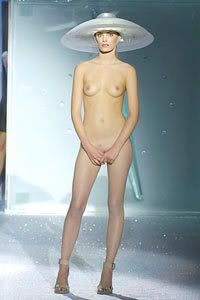 In one design, hundreds of concealed swarovski crystals appear from nowhere to completely change the image of a dress; another shows a dress turn smoothly into a frilly hat. Practicality certainly isn't the appeal here — the dress / hat combo leaves the wearer completely nekkid — but surely this is the first step towards clothes that adapt to our environment, and look good doing it too
The girl walked in and stood stock-still, dressed in a long, high-necked corseted Victorian gown.
Then her clothes began to twitch, move, and reconfigure of their own accord. The mono-bosom top opened, the jacket retreated, the hemline started to rise, and—finally, amazingly—there she was, wearing a crystal-beaded flapper dress: a woman propelled through fashion history from 1895 to the twenties in the space of a minute. This was one of six incredible feats of technology and conceptual commentary at the heart of Hussein Chalayan's show.
WMV movie here (the animatronic stuff and the nude model are toward the end).