Aspiring engineers with rockets, lunar landing modules and light beams competed for millions of dollars in prizes in the New Mexico desert on Friday and may show that personal space flight is just around the corner.

As thousands of spectators clutching ear plugs and cameras gathered round, the rocketeers began vying for the Wirefly X Prize Cup in a two-day event that organizers hope will also boost flight research. Some $2.5 million in prizes are at stake.
"What we're doing here is making space flight more accessible so we can get the next generation excited," said Ian Murphy, a spokesman for the X Prize Foundation, which is managing the event on behalf of U.S. space agency NASA.
Amateur rocketman Dan Schlund thrilled crowds at the start of the competition, strapping on a belt with two metallic blue canisters of hydrogen peroxide, and blasting 30 feet (9.5 meters) into the air.
"Throw some prayers my way, it's a scary thing I'm about to do," said Schlund, who hovered above an airport outside the town of Las Cruces for nearly 30 seconds before landing softly nearby. Onlookers cheered.
Space competitions have become big business in the United States since SpaceShipOne won the $10 million Ansari X Prize in 2004, becoming the first private consortium to successfully put a man into suborbital space.
The contests for amateur rocketeers and private aerospace firms also provide a useful pool of research and development for sponsors like the National Aeronautics and Space Administration.
Prizes up for grabs at the weekend meet include the $1 million Lunar Challenge, which seeks to encourage space enthusiasts from as far afield as California and New York to develop the next generation of lunar lander vehicles.
Competitors have to launch their craft vertically to at least 160 feet and maintain altitude for at least three minutes before landing vertically on a rocky surface 330 feet away.
Other prizes include the space elevator games, for which teams use beams of light to power a vehicle along a cord 150 feet in the air. Ultimately the technology is meant to hurl such vehicles hundreds of thousands of miles in space.
The event attracted around 70 exhibitors, including aerospace firms, T-shirt sellers and model makers, and drew curious spectators eager to learn about the latest possibilities in space exploration.
Jake Jones drove from Lubbock, Texas for the event with his two sons Jayton, 13, and Jase, 11, so they could develop an interest in space science.
"We don't take them out of school very often but this is such an educational experience for these boys," he told Reuters at the chilly air strip.
"College isn't so far away, so here they can meet the players and see the kind of work being done."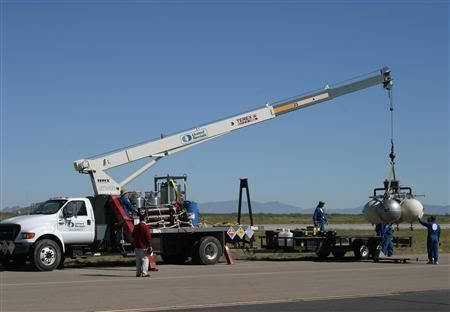 The Armadillo Aerospace team prepare to transport their vehicle Pixel for liftoff in the Lunar Challenge, in Las Cruces, New Mexico, October 20, 2006.