Ever listen to the radio and wonder what the name of the song is? Who is the artist? What year was it released? Instant FM Music helps you answer all of those questions!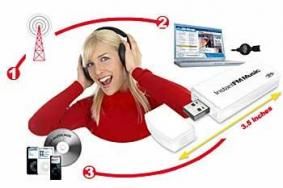 Two of the age old problems facing every audiophile consumer appear to have been solved by a US$50 USB-thumbdrive-sized device. Instant FM Music plugs into your computer's USB Port, enabling you to tune to your favourite FM or Web Radio station and record the station's entire playlist, at the same time as identifying the individual tracks for easy playback. So you'll never have to listen to the radio and wonder what the name/artist of a track might be, or where you might get it. A complete USB hardware/software solution, the device finds and records the user's favorite songs, podcasts and sporting events automatically, separates, identifies and labels the songs using a combination of Snaptune One and the company's own the company's own analog-to-digital audio converter and Radio Data Reception System (RDS) capture technology. This technology combines with the software's other tools to enable consumers to easily tune across the entire FM band, record live broadcasts and view displays of RDS/RBDS data such as station call letters, radio text and more on their PC monitor.
Snaptune One provides users with a detailed list of all the programs it was asked to record and, after a short 'learning period', it also highlights the individual songs that were played during those programs. With the software's Tivo-like capabilities, users can pause or rewind live radio, go back an entire week or longer to listen to any song again, learn more about it, or go online to purchase a download or CD containing the song. The software also features unique indexing technology that enables users to view a playlist with individual songs, interviews, live sessions, news stories or talk segments. A complete hardware/software solution, the USB 2.0 audio capture solution is compatible with Windows XP and is Windows Vista-ready Equipped with a retractable FM antenna, the external device comes with a USB extension cable, a CD containing Snaptune One and Instant Radio software as well as carrying pouch.