Interact-TV designs is the Telly Home Entertainment Server, a line of innovative Linux-based media server products that create an easy way to store, manage, share and enjoy your ever-expanding libraries of movies, recorded TV, music, photos and more. So what does that mean for the consumer?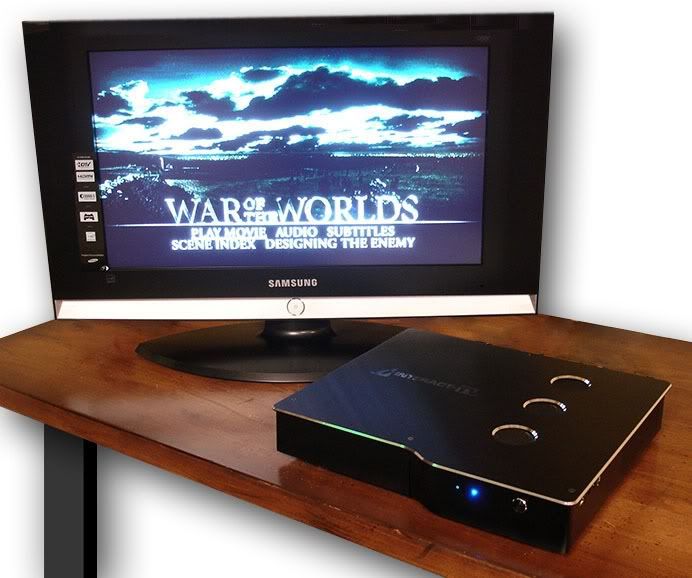 You have a new HD monitor – but there is not enough HD shows yet. You have all of these DVDs (and VHS home movies). What if you could digitally store them all and watch them at HD resolution (720P) all at the touch of a remote? With Telly you can. Rediscover those DVDs at 16:9 aspect ratio (widescreen) at 720P resolution, and watch them the way they were meant to be seen.
You hate missing your favorite shows, plus your friends always ask you whether you saw that episode. Now with Telly you can record your favorite shows, plus burn them on DVD disks to save or share with friends.
Your rack of CDs and DVDs are overflowing along the wall, plus you can't find that favorite CD – was it in the car last? With Telly you can store all of your CDs with cover art – and listen to them anytime you want. Store all of your CDs and DVDs with cover art, genre and title – all the information you need to easily search and find the one you want.

You have a mountain of digital media and don't know what to do with it all. The PC is full of digital photos that no one can find, the CDs stacks are falling over, the DVDs are stored in the upstairs closet. Telly has products that give you anywhere from 160GB to 3 Terabytes of storage and keeps all your digital media where you can find it: at your fingertips. Plus, expanding Telly's storage is a snap so you won't outgrow your Telly unit. Think of it as, well, future proof.
You recorded shows on the downstairs PVR but it's late. You'd like to watch from your bedroom but you can't copy what's on the downstairs PVR off of it – plus you don't even have a PVR in the bedroom since you'd have to pay for guide information twice. With Telly this is easy to solve and, at only $495, it's a playback unit that's affordable.
This is just a sample of what you can do with Telly and what Telly can do for you.