A canine-only bakery selling a range of handmade dog biscuits and meaty cakes has opened in Germany.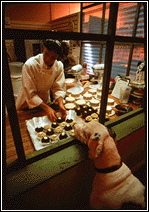 The Dog's Goodies bakery in the city of Wiesbaden, near Frankfurt, is a howling success, according to local dog owners.
Former florist turned canine chef Janine Saraniti-Lagerin offers her doggy customers treats such as minty biscuits, muesli bars, tuna cakes and garlic cookies.
She said: "Vets tell me what is healthy and my Labrador Ronja tells me what is tasty.
"Dog-owners come from far and wide to get treats here. Many international customers stop off here on their way to Frankfurt airport to pick up something special for their dog back home."
Dogs brought to the shop are given a free tasting session, says Saraniti-Lagerin.