First Monowheel
A monowheel is a crazy contraption where the rider sits inside the wheel. Not to be confused with a unicycle, where the rider sits above the wheel, the monowheel is a hard to drive and hard to steer vehicle that has a unique and colorful history.  Here is a collection of some pretty amazing photos. (Pics)
 When describing this elegant monowheel cycle – the word "bicycle" seems somehow inappropriate, even though there are two wheels involved.  This photo dates back to 1869. It was built by Rousseau of Marseilles.
In 1869 the craftsman Rousseau of Marseilles built this monocycle, which perches the cyclist on the inside of a 2 1/2 yards-high wheel. As there is no steering mechanism, it makes uncommon demands on the rider's sense of balance." (from Galbiati & Ciravegna)
Presumably the bigger outer wheel made bumps in the road easier to negotiate; compare the popular penny-farthing or "ordinary" bicycle. What it does not have is the gearing-up given by the large wheel of a penny-farthing.Note the solid rim- this is before pneumatic tires were introduced. There is no gearing and no steering. There is a brake, operated by twisting the handlebar forward. This pulls a strap that causes the curved lever to press against the rim of the inner wheel.
The machine is in the Museo Fermo Galbiati, Via Mameli 15, Brugherio, Milan, Italy. (A bicycle museum)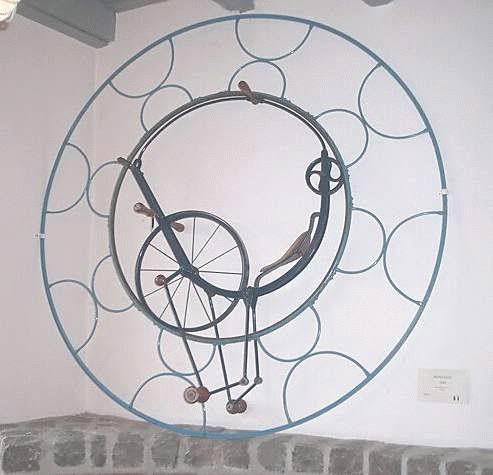 The Jackson Monowheel: 1869.
This surprisingly modern-looking monowheel is in the Velorama National Bicycle Museum in Nijmegen, Holland. It is actually a replica of an original built by W. Jackson & Co, Paris, France, in 1869. It is not currently clear if the replica is based on original components of the Jackson monowheel.
The diameter of the wheel is approximately 1.65 metres (5 ft 5 in). The monocycle is treadle driven, the treadles being connected by rods to cranks on the axle of the inner driving wheel. This wheel runs in a semi-circular groove on the the inside of the inner rim of the main wheel.
W. Jackson et Compagnie of Boulevard Malherbes 36, Paris, advertised regularly in the short-lived cycling magazine, Le Vélocipède Illustré. (It only ran from spring 1869 until the outbreak of the Franco-Prussian war in 1870)They appear to have been sales agents rather than manufacturers since they offered all kinds of cycle: velocipedes, tricycles, quadricycles and the monocycle. Each one of their adverts carried an engraved picture of the week's offering. The monocycle was featured in the edition of 24 July 1870 at a price of 300 francs; this advert was the basis of the replica at Velorama.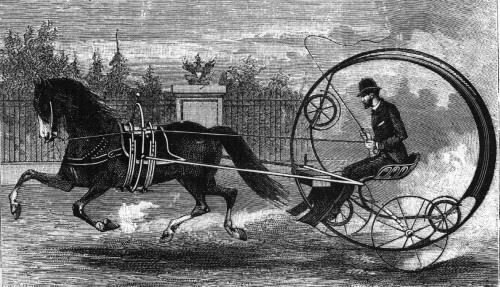 A one-horse monowheel design. Date unknown, but probably 1870-1890.
There is no information beyond the picture itself, taken from a book of copyright-free images, and this is probably just a concept. For example, the idlers inside the main wheel are not spaced enough around the circumference to keep the inner carriage in place.
Note the two stabiliser wheels attached to a transverse leaf-spring.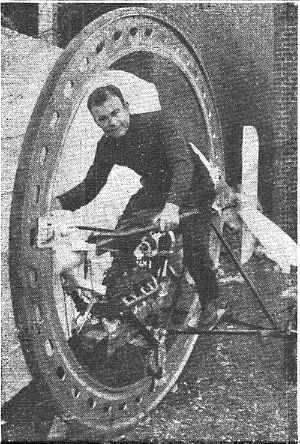 Gaily Musselh
This picture comes from the letterhead of one Gaily Musselh. It appears at the top of a letter addressed to Alfred D'Harlingue, but has a two-bladed pusher propellor, and is a close approach to the Coates patent, apart from the size of the engine
The Edison-Puton Monowheel: 1910

French monowheel built in Paris by Erich Edison-Puton in 1910. It has been restored by Ferdinand Schlenker of Sexau and is fully operational, being frequently demonstrated by Mr. Schlenker in the Museum carpark. The engine is a 150 cc single-cylinder De Dion giving 3.5 HP.
The machine is in the Auto & Technik Museum, at Sinsheim in Germany. Another very early motorised monowheel.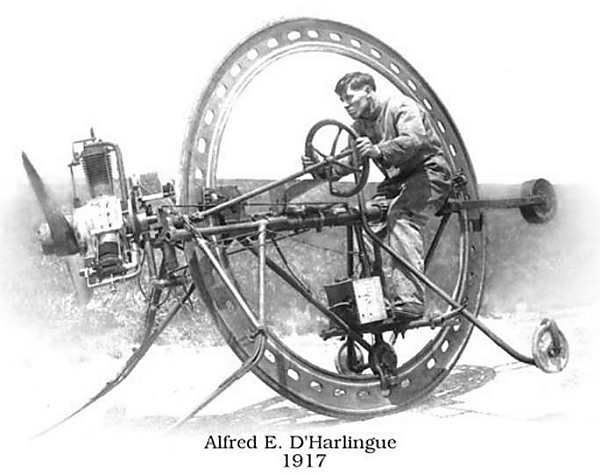 The D'Harlingue Monowheel with its inventor in 1917
It is not really clear if the propellor was accurately pictured or not- it doesn't look like a standard aeroplane propellor, but then it was expected to produce thrust at a much lower forward speed. The prongs at the front are clearly intended to stop the propellor from striking the ground.
This version appears to swivel the whole engine for steering purposes. It doesn't appear to be a good way to get a small turning circle.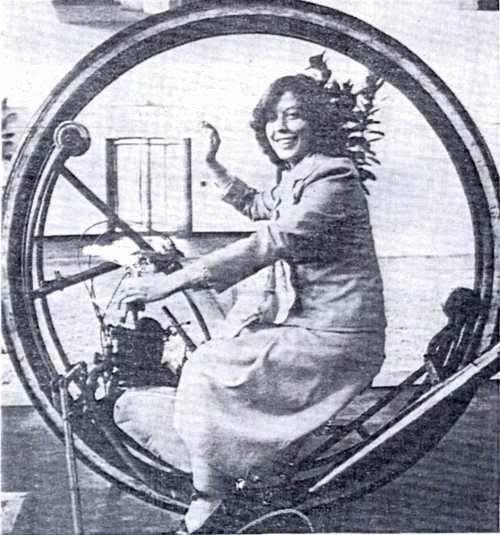 French Monowheel: 1927.

This picture comes from an unidentified German newspaper dated 16 June 1978. The caption reads: "No shortage of curiosities at the 'Old-Timer Exhibition' in Düsseldorf, where about 100 vehicles can be seen. Here is a French 'Mono Cycle' from 1927, which 'put-puts' along the roads at a maximum speed of 10 km/h."Well, 6 mph should be safe enough. As we have seen, many monowheel builders were claiming quite unbelievable speeds.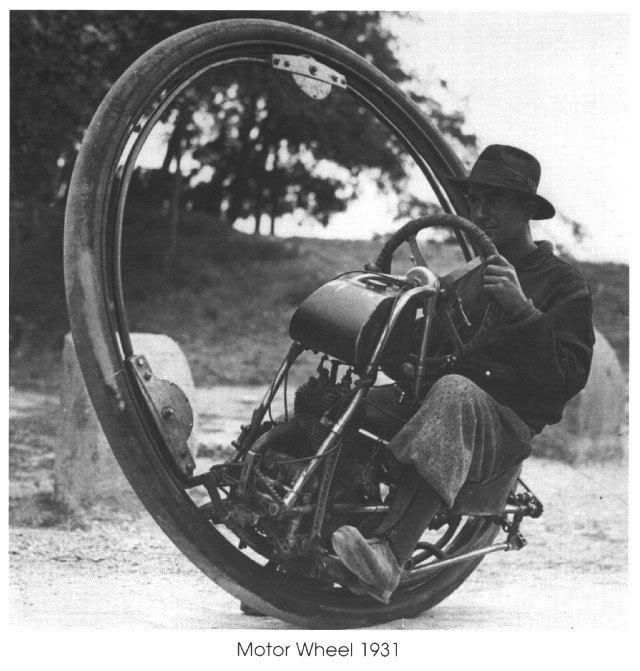 Motor Wheel 1931

Swiss engineer Mr. Gerdes astride/inside his one-wheel motorcycle at Arles, France, in 1931.
He was apparently on a journey to Spain- there is no info on whether he got there. At any rate, he looks cheerful enough here. It was assumed that this machine was Gerde's invention, but it now looks as though he may simply have been one of the customers- and there were probably not that many- of the Motorouta company.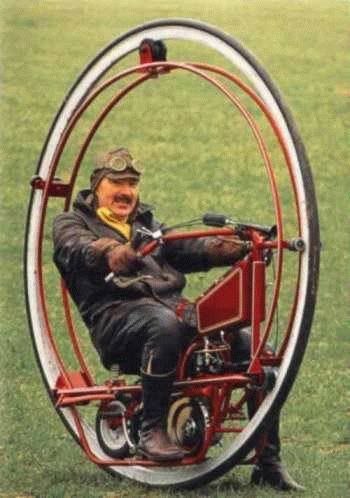 A 1924 Circus Monowheel Restored.
For some time it was believed that this is Jumpin' Joe Gerlach, on a circus machine fitted with a 160cc Honda engine, but it is now clear it is really Hubert Brosche on a restored 1924 circus monowheel.He provided the following details; Engine: 250cc Horex Columbus (1924) & Buhrmann Gearbox. He restored the wheel in 1988 and rides it at different shows/TV events.
Kerry McLean's MonowheelA modern monowheel, built by Kerry McLean, 47, of Walled Lake, Michigan. Picture dated Feb 2001.
  Engine: 40HP water-cooled, ex-snowmobile
  Wheel: Inside diam 36 in. Tyre is from a French vineyard tractor trailer.
  Controls: Left-hand clutch, twistgrip throttle, righthand hydraulic brake.
  Steering is by leaning slightly out of the wheel. Accessories: Halogen headlights, brake lights and numberplate.This machine is licensed for the road. McLean has set a speed record of 53mph for a monowheel at Bonneville Salt Flats, Utah, and is aiming for 100mph.
The McLean V8 Monowheel.
This new machine must be the first operational V8 monowheel. The engine is an aluminum block Buick V8 with dual quad carbs, and is one superb piece of engineering. Brilliant!
New! Superb video of Mr McLean driving his V8 monowheel. (1.4 Mb) mclean.mpg Video kindly provided courtesy of Panda Precision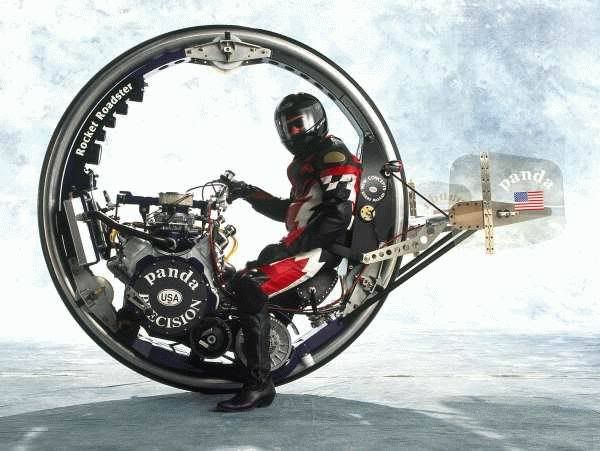 V8 Rocket Roadster

The second version of the V8 Rocket Roadster, with stabilising fin and rudders.
These were fitted following some stability issues with the earlier design.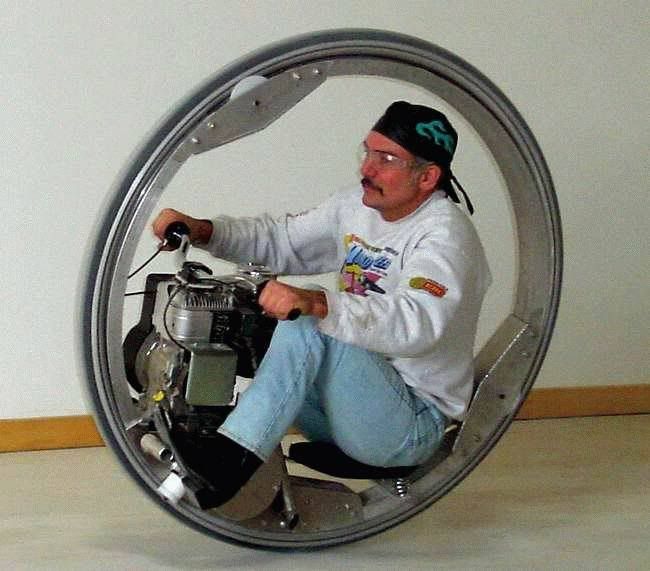 Kerry Mclean's Latest
The latest model, with Kerry Mclean aboard.
Kerry hand-builds these for sale; cost in the US is approx $8,500. The engine is a Briggs & Stratton 5hp model. What appear to be chromed parts are actually hand-polished aircraft-spec aluminium.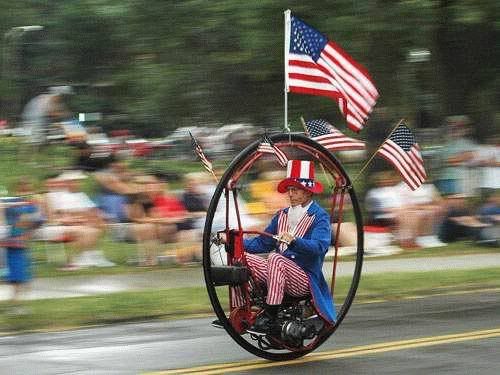 Keith Dufrane's monowheel.
This superb picture was kindly provided by Keith Dufrane. He says:
"I became fascinated with them a few years back and made one based on a 100cc Honda trail bike engine. I dress up as Uncle Sam and take in a variety of parades in Columbus, Ohio, each summer."
Russian Foot-Powered Monowheel.
This picture was provided by Valery Makarenko. Apparently you scoot along, standing on the small platform at the bottom, and holding onto the two angled arms. A purist might argue that this doesn't count as a monowheel as the rider is not actually inside the wheel, but I for one am prepared to give it the benefit of the doubt.
The Suncycle is a commercial venture currently seeking funding for mass production.
Learn more at: http://suncycle.boat-composite.com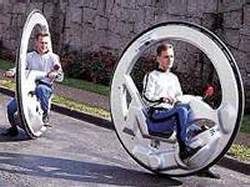 The Brazilian "Wheelsurf" Monowheel.
The Wheelsurf is being actively marketed at present. It appears that plastic mouldings are used for the frame, so a significant amount of money has been invested in the project. The project now seems to be based in Holland.
Learn more at: http://www.wheelsurf.nl/
The Chinese Monocycle.
Li Yongming, left, and Zheng Jun demonstrate commercial monocycles during a promotion in Beijing in 2003 (?). The monocycle was designed and built in Xian in China's Shanxi province, and is said to sell for 2,888 Chinese yuan (approx $350).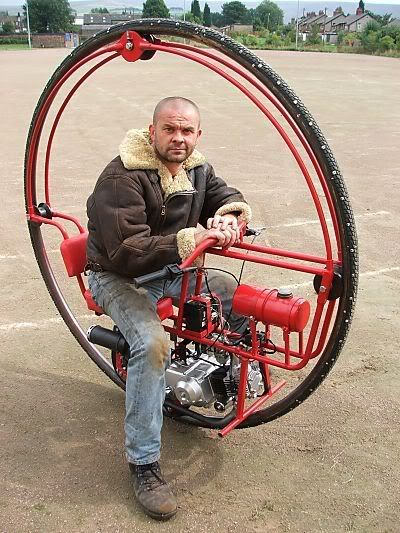 The David Southall Monowheel.
This fine machine has been recently built by David Southall. It is called The Red Max. David says its construction was inspired by the 1924 circus monowheel.
David has now kindly provided more details:
"The wheel itself is a 5 foot diameter hoop of 2 inch tube. It was a bit beyond what I can do so was made for me by The Angle Ring Company . The pulleys on which it runs were custom-made by AED rollers. Everything else was cut, bent and welded in my shed!
The engine is a 90cc four stroke from a Chinese quad bike. I was initially going to use the engine/wheel unit from a 50cc scooter but the wheel was too big and the two stroke power delivery can be a bit 'peaky'! The quad engine is fully auto with electric start. The friction drive wheel is the rear wheel from a mini moto. It has a cable-operated disc brake which must be used with extreme caution. The tyre on the outer wheel is three 24 inch mountain bike tyres cut up and pop riveted on. Once I had all the major parts the actual build only took eight days.
The handling is quite good, although I have nothing to compare it with! A video can be seen here. It is relatively easy to get your feet up providing you have achieved a certain speed. I am unsure of the top speed of the machine but have easily won a race against a lad who was sprinting a quite a pace. I will try to attach a pushbike speedometer and get some figures in the near future."If this somehow STILL isn't enough information about Monowheels, please check this out!