Thousands of people who log on to online computer games are displaying the same signs of addiction as gamblers and drug users.

The world of online gaming is a growing phenomenon with millions of young men and women around the globe logging on to join in role-play games which allow them to interact with other players.
A study of 7,000 online computer gamers has revealed that one in nine were displaying at least three signs of addiction.
The subjects, mostly male and with an average age of 21, were asked to fill out two questionnaires.
The addictive signs they displayed were modelled on the symptoms of dependence syndrome outlined by the World Health Organisation.
They included craving, withdrawal symptoms, loss of control and neglect of other activities.
The results will prove alarming for parents, whose children spend hours on the computer.
One fantasy game in which players populate a virtual mystical world of dragons and wizards has even been dubbed EverCrack, in a reference to the drug, instead of EverQuest, because of its addictive quality.
It has been cited in marriage break-ups, child-neglect cases and even an obsessive player's suicide.
An EverQuest Widows support group has been set up for people who have lost partners through the game.
It follows fears about the consequences of online gambling, as well as studies showing the addictive quality of both the internet and stand alone computer games.
The study is the work of Professor Mark Griffths, director of the International Gaming Research Unit at Nottingham Trent University and is to form a talk as part of the British Science Museum's "Game On" lecture series.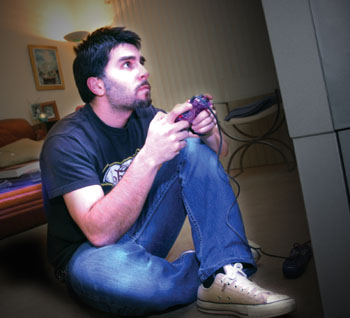 "Addicted" gamers were compared to the remaining players and it was found that they played for much longer periods and were "significantly" more likely to report withdrawal symptoms and craving.
Last night Prof Griffiths said it was a largely adult phenomenon because most online gaming sites require a credit card subscription, the average age of an online gamer is 29 to 30.
However he did find that some teenagers were playing, after parents subscribed to the sites.
About 20 per cent of players are women, drawn by the social an cooperative element of the games.
"Although I think genuine addiction is fairly low, the thing about online gaming is that the game never stops," said Prof Griffiths. "With a stand alone game you can switch it off and come back the next day, but with an on-line game it's very difficult to log off when you know half the world has just logged on.
"Many gamers play excessively and display few negative consequences. There is nothing wrong in itself with doing something excessively, unlike gambling gaming has little or no financial consequence.
"However, the 24-hour a day never-ending online games may provide a potentially addictive medium for those with a predisposition for excessive game playing."
The research is to be published in an upcoming issue of the journal CyberPsychology and Behaviour.
EverQuest and World of Warcraft are two of the biggest online games.
Seven million people subscribe to World of Warcraft to join a virtual world of Lord of the Rings-type characters such as orcs, elves, gnomes, dwarves and humans. Fees are typically about £8 a month.
But such games have come in for much greater criticism.
A woman in the U.S blamed a game on the death of her 21-year-old son, who had a history of mental health problems, and shot himself while still sitting at his computer.
In countries such as the US, China and South Korea it is not unusual to find a whole host of special treatments and clinics claiming to hold a cure for the compulsive gamer.
In South Korea, the authorities have become so concerned by the numbers of young people spending too much time on computers that the government launched a nationwide addiction hotline to help combat the problem.
In January this year a Dutch addiction centre added Europe's first rehab clinic for cyber-addicts, after an increase in gamers yearning to cure themselves of their online vices.