Losing weight, making money, and fixing their computers are the top three concerns of the Internet culture in China according to a survey conducted by leading Chinese search engine Baidu.com.

While getting in shape is the top concern of China's netizens, it's clear that many of them are also concerned about the "health" of their computers.
Baidu reveals that the second most-asked "how to" question on its websites in 2006 was about how to reload computer systems.
As computers increasingly dominate the world of work, it is vital for computer systems to remain active and healthy, explained Liu Jia, a Beijing-based IT engineer.
How to make money is the third most searched question, said the survey the answer to which we wish we all knew.
It might be an old topic, but how to get pregnant is the fourth "how to" question on the list, with young couples across China eager to give birth to a baby next year, the Year of the Pig on the Chinese lunar calendar.
"The Year of the Pig coinciding with the element of gold is something that happens every 60 years, " said 25-year-old Wang Jing, an office administrator in Beijing.
"Many claim that babies born during the Year of Gold Pig will be blessed."
Maternity hospitals in some major cities have been kept busy as many young women try to have babies next year.
While mothers-to-be are expecting babies, some fathers-to-be are busy trying to profit from the bullish stock market, the survey said.
This comes as the Chinese stock market rose sharply this year after being stagnant for five years.
The survey more or less indicates ordinary people's interests this year, said Hong Bo, editor-in-chief of Donews, an information technology community and media website.
"Netizens are ordinary people, they only care about what is relevant to them," Hong said.
Another top "why" question showed that Chinese people wanted to find out why the Red Army embarked on the historic Long March in the 1930s, the survey said.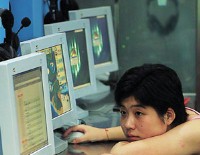 Large-scale publicity and numerous commemorative activities on this year's 60th anniversary of the Long March inspired many people to learn about the event, said Sun Yunxiao, a youth studies expert based in Beijing.
This curiosity is a result of the sharp contrast between the harsh experience of the Long March and the relatively more comfortable contemporary society, Sun explained.