An art collector has paid about $2.3 million for a $1,000 bill printed in 1890, according to the auction house that brokered the transaction between two anonymous private collectors. (w/pic)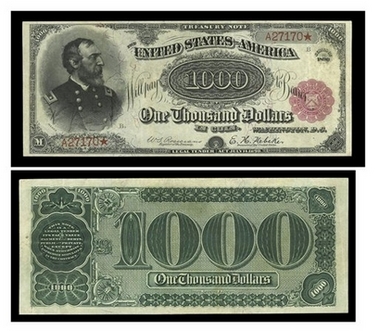 This undated photo released by the Heritage Auction Galleries in Dallas shows the face and back of a $1000 bill that is one of only two known of its kind.
"This $1,000 bill is one of only two known of its type; the other surviving example is in the museum at the Federal Reserve Bank of San Francisco," Greg Rohan, president of Dallas-based Heritage Auction Galleries, said Friday.
Rohan said that type of bank note is known to collectors as a "Grand Watermelon" because the green-striped zeros in the denomination "1,000" printed on the back of the bill look like the fruit.
"Only two Grand Watermelon examples are known with red-color Treasury Department seals printed on the front; the half-dozen other surviving Grand Watermelon notes have brown seals," he said in a news release.
The $2,255,000 price is more than double the previous record for an 1890 Grand Watermelon note. The previous record for any bank note was $2.1 million, according to the Heritage Auction Galleries.
Rohan said the buyer was "a very advanced and sophisticated East Coast collector of art and rare currency."