A plan to build the world's largest wind farm 20 km off the Kent coast in the United Kingdom, has been given Government approval for its offshore planning applications.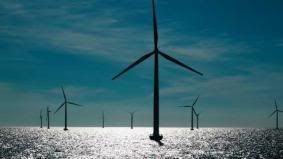 If built, the 1,000MW wind farm will include 341 turbines, cover 90 square miles and generate enough electricity to power 750,000 homes – a quarter of Greater London's households. The consent for the onshore substation, necessary to connect the UKP1.5 billion London Array into the national grid, will now be subject to a Public Inquiry. When it becomes operational, the renewable energy project would displace 1.9 million tonnes of carbon dioxide each year – enough to fill the bowl at the new Wembley Stadium 910 times.
The UK Government has a target of 10% of energy generation from renewables by 2010 and an aspiration to double that by 2020. The Government recently published its
energy review
, which recognised the need for additional support to boost offshore wind energy generation. It also recognized the need for fundamental reform of the planning system for major energy infrastructure projects.
The London Array consortium is made up of E.ON UK, Shell WindEnergy Ltd and CORE Ltd, a joint venture between Farm Energy, the originator of the project and DONG Energy.