A succulent fillet steak with a glass of fine red wine is one of the world's great dining experiences. Now, Australian farmers are taking it one step further, by plying their pedigree herds with a quality red wine retailing for $20 a bottle, in the hope that it will help produce some of the most sumptuous steaks the culinary world has tasted.


The Wagyu cattle in Western Australia are being fattened on a diet of mixed grains and hay, saturated with Chestnut Grove 2004 cabernet merlot at the rate of a litre per animal each day.
The wine, sourced from a boutique vineyard in one of Australia's most celebrated wine-growing regions, Margaret River, south of Perth, would grace any gourmet's dinner table. Its tasting notes describe a palate displaying "complex blackcurrant and subtle menthol with fruit cake and vanilla bean flavours".
"The aroma is laden with red currant, plum, chocolate and sweet herbaceous mint character with spicy biscuity oak to compliment the lifted perfume," the notes proclaim.
Wagyu, which originated in Japan, already enjoys a reputation as the world's best beef — but it comes at a price, with a Wagyu sandwich in Selfridges famously selling for £85.
The beef is notable for its "marbling", the fine flecks of fat that permeate the meat and effectively baste the steak from the inside during cooking. This produces a succulence and depth of flavour that thrills chefs and diners alike.
The addition of a litre of premium wine to each animal's feed for the last 60 days of its life is said to give the meat a sweetness that lifts the quality even further. The antioxidants in the wine are also thought to improve the colour and shelf life of the beef.
The wine-fed cattle programme was launched last year by Margaret River Premium Meat Exports, in response to a request by a Japanese celebrity chef who is one of the company's top clients.
The initial plan was to keep numbers low and export only to Japan. But since word of the scheme got out, orders have been flooding in from across the world. "Our biggest problem is going to be meeting the demand," said John McLeod, the company's managing director. "It really has taken us by surprise."
Perhaps most surprising is the price food-lovers are prepared to pay. A single Wagyu scotch fillet or porterhouse steak with the highest marble content can cost A$100 (£40), with the wine-fed variety costing 20 per cent more.
Yet far from putting off the punters, Mr McLeod has seen turnover increase 16-fold since starting Wagyu beef supplies in 2003.
The company now exports to 14 countries and hopes to break into Europe within 18 months.
Of the 4,000 Wagyu cattle to reach maturity this year, about 10 per cent will be wine-fed, though Mr McLeod believes that proportion is likely to rocket as the scheme catches on. "In Japan the stand-out feature is that they feed their best Wagyu cattle a bottle of beer each day and massage them and play them music. This is our equivalent, and as far as I know we are the first in the world to do it," he said.
And it seems that no one is happier than the cattle. "They genuinely seem to like it — their appetite has increased since we introduced the wine and it has a relaxing effect. After they have eaten, they lie in their pens, chewing their cud, very content."
Neil Perry, one of Australia's most renowned chefs, said that good quality Wagyu was "beautifully tender, juicy, succulent, rich and caramelly". "It really is like eating a piece of foie gras, and it's great to cook with," he said.
As for the wine-fed variety, he said: "It could be a gimmick, but I would never shoot something down without giving it a try. You are what you eat, I suppose, so I'd love to have a look at it."
Kate Dermody, marketing co-ordinator for the Chestnut Grove vineyard, said there was no sense of dismay that one of its top drops was ending up in cattle feed. "We consider it a compliment to the quality of our wine," she said. "To have these cows drink our wine is quite literally putting the ultimate match of food and wine together."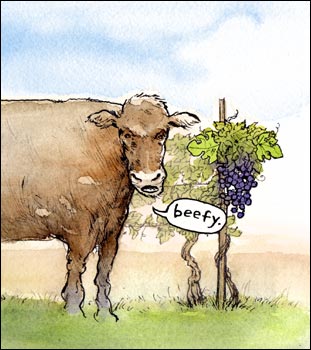 Via The Telegraph