What could make a better clothing material than toilet paper? It's cheap, easy to work with, and fits other needs in a pinch.

So you have that little issue with wetness, but who needs to go outside in the rain nowadays anyway?
Hmmm … maybe that's why they don't toilet paper bikinis … but as you'll see, people have tried to make just about everything else.
Evening Dress: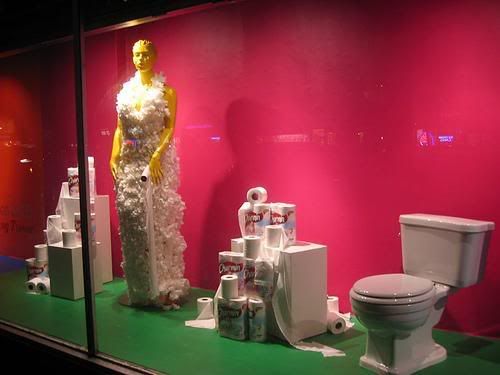 This dress was part of the "Affordable Fashions" display at Gracious Home (NYC) in 2005. Other dresses were made out of napkins, ball chain, and bubble wrap! Picture
via
Wedding Dress:
This wedding dress was created by Jaymi Horne, a runner up in the
First Annual Toilet Paper Wedding Contest
. If you didn't see these back in October when the results were announced, check out the amazing dress made by the grand prize winner. (thanks to
Scribal Terror
for the link)
Assorted clothing: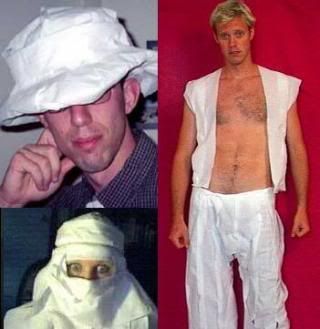 Back in 2001, Ze Frank held a toilet paper fashion contest. Over 100 people sent him pictures of their creations (my three favorites are shown above). See all contestants at
Ze Frank
(
warning
: some contestants should have worn a little more toilet paper).

Toilet paper tie: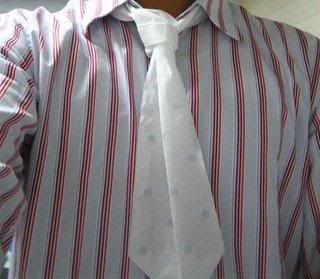 Apparently if you e-mail him your address, he'll make you one. It's scented too! From
The Daily Kimchi

Canadian toilet paper fashion contest: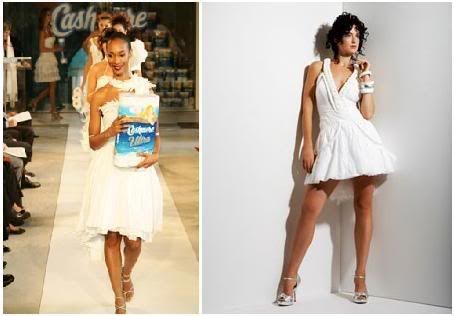 This odd fashion show staged 8 young Canadian fashion designers against one another for a $2,500 grand prize from Cashmere (who is trying to market a 3-ply toilet paper). I guess the designers didn't have to worry about running out of necessities in the bathroom!
Pictures were taken by Geoff Barrenger and can be accessed at the bottom of the article in
Elle Canada
.

And just for fun – a silly toilet paper dispenser hat: