They are young, they are energetic, and now for an eternal memory, they go nude — in the studio.

|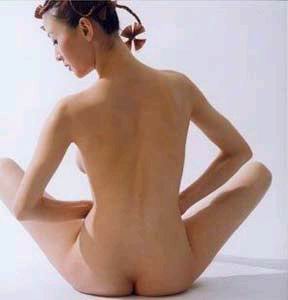 A young girl, nude, turns her back to the camera in a picture taken in the Xi'an photo studio.
They are college girls in Xi'an, an ancient city in landlocked Shaanxi Province, which served as the capital city of some 13 dynasties in the Chinese history, including the world-renowned Tang Dynasty (AD 618-907).
Now over 1,000 years later, Xi'an girls have really made a giant leap forward — revealing their bodies, compared with their Tang Dynasty sisters' off-the-shoulder-top vogue. They take snapshots, nude.
Along the bustling Chang'an South Street, south outskirts of the city, there are 5 universities. Some girl students rush to take nude pictures at an avant-garde photo studio by the side of their campus.
A set of nude photos costs 1,000 to 5,800 yuan (about US$120-600). This cost is obviously a considerable amount in the ancient city whose residents on average earn 800 yuan (about US$100) per month. Whereas the high price never drives the girls, mainly living on parents — away.
"I think it's worth the money. I can leave my most beautiful time eternally on the negative and photos," a 20-year-old girl with a nearby university said, on condition of anonymity.
However, most parents of those girls know nothing about it, while footing the bills unconsciously. Do parents support their daughters to keep eternal their prime beauty in nude snapshots?
The girl said: "As an adult, I know what I am doing and of course have the freedom to do this, if I like."
"As for the money, I didn't ask a penny from my parents to cover the photo expense," the girl said, proudly. "I've got a part-time job as a tutor and saved the money for this."
She is not the only one. Many girls, most from the five universities in the vicinity, visit the photo studio to make their artistic photo album, all in nudity.
"We take orders for nude photos almost everyday and sometimes customers have to book a photo session a week beforehand," said the studio owner, a young man in his twenties.
"Nowadays many college students have completely different attitude towards the photographic art of human body, which had, for a long time, been considered a taboo in China. They now appreciate nudity and consider it an art. And when taking photos for nude girls I feel a kind of sanctitude as I am witnessing glamour of human body," the owner said.
He said all cameramen working in the studio are young men. "They are highly professional and can always very well cooperate with their customers during the photo session."
Via China Daily