Communist leaders have no plans to allow democracy in the near future because they must focus on economic development before political reform, China's No. 3 leader said in comments published Tuesday.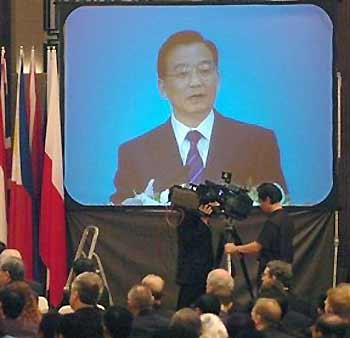 Democracy will emerge once a "mature socialist system" develops but that might not happen for up to 100 years, Premier Wen Jiabao wrote in an article in the People's Daily, the main Communist Party newspaper.
For now, China must focus on "sustained rapid growth of productive forces … to finally secure fairness and social justice that lies within the essence of socialism," Mr. Wen wrote.
The Premier said the country is "still far from advancing out of the primary stage of socialism. We must adhere to the party's basic guidelines of the primary stage of socialism for 100 years."
Mr. Wen's comments, which appeared as the government prepares for its annual parliament session, come amid pressure by activists for an end to the ruling party's monopoly on power but made no reference to those demands.
The communist government has carried out limited political reforms in recent years, allowing non-partisan elections for the lowest-level village leadership posts. But the ruling party controls policymaking, and harasses and jails activists who call for multiparty democracy.
Mr. Wen said China would develop its own democratic policies and that a socialist system was not contradictory to those policies.
"A highly developed democracy and a complete legal system are inherent requirements of the socialist system and important symbols of a mature socialist system," Mr. Wen said.
China's ceremonial parliament, the National People's Congress, opens Monday and is expected to discuss property and tax law changes.
China's economy has boomed in recent years, growing at double digit rates, but the expansion has been uneven. Communist leaders acknowledge that a growing wealth gap was threatening to undermine political stability and their control of the country.
Mr. Wen said that while economic development was the central task, that had to be done while building a harmonious society — the government's catchphrase to describe efforts to help the hundreds of millions who have not yet benefited from China's rapid economic growth.
Via Globe & Mail