Even ladder climbing, globe trotting, time strapped corporate executives need to stop and take a break when Mother Nature calls, right? Not anymore. With the Gotta Go Briefcase, executives with an eye for the top don't need to waste time tending to their bottoms: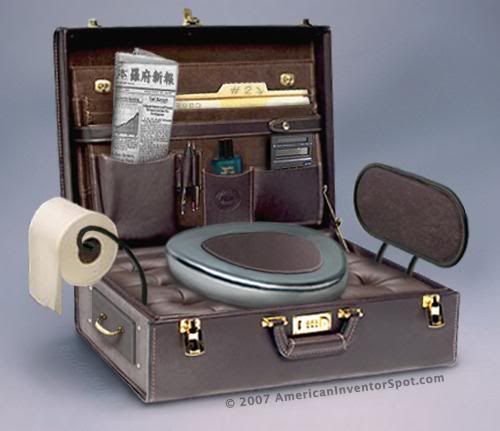 As you can probably tell, discretion was the key objective when Niban Too Corporation of Japan invented the Gotta Go Potty. They waterproofed the containment area, double-sealed the lid, added a fold out leather privacy guard, and even included a cup holder (a diversion tactic the Japanese learned from General Motors … "Oooooh, a cup holder!").
According to
American Inventor Spot
, top Japanese business execs actually see a need for this type of briefcase. Given that exceeding the maximum weight of 175 lbs may result in
"RUPTURE of waste tank"
or
"possible bacterial contamination of briefcase contents"
, we have to question how many American boardrooms this port-o-crapper will show up in.