It used to be that women got married, then had a baby. But these days, according to relationship expert Amy Kean, the rules seem to be changing, in part because so many women are getting married later in life. Many women, perhaps taking a cue from celebrities in Hollywood, are either walking down the aisle pregnant, or having the baby and then getting married afterwards.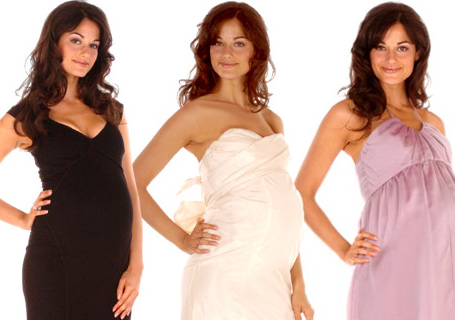 If they're expecting when they get hitched, they need a gown to go over their large bellies.
And, Kean told The Early Show co-anchor Hannah Storm co-anchor Hannah Storm, "It's the perfect time, design-wise, to be a pregnant bride," because more and more designers are catering to their needs.
Celebrities such as Jennifer Garner and Amanda Peet were pregnant at the altar, Kean pointed out. Katie Holmes got married after giving birth. Salma Hayek and Jaime Pressly recently announced they're both engaged and pregnant. And Naomi Watts is rumored to be getting married this summer, before her pregnancy begins to "show."
"Today," says Brides magazine Editor in Chief Millie Martini Bratten, "we see so many celebrities who are either pregnant at the altar or they get married after they've had a baby, so it's something people are talking about openly."
Bratten says "brides with bellies" are no longer taboo: "The stigma is definitely gone. If couples have already planned to have a family and it happens to coincide with the wedding, they're perfectly fine with that. … It's a different bride and groom today. Their weddings are not like their parents' weddings. They're marrying older. They're living together. They're doing things all at once. So, it's more about celebration, rather than hiding something."
Luckily for pregnant brides, there's no shortage of wedding gowns for them, like the ones offered by Reem Acra.
Rosalie Peng can attest to the wide availability of such gowns. She's expecting her first baby in July, and isn't concealing anything.
"I feel very proud of how my body looks in a wedding dress," Peng says. "I think it's a miracle of life to be pregnant, and any little girl's dream, really so this is like the best part of your life!"
A recent MaternityBride.com survey of bridal shop owners says as many as one-in-six brides is pregnant.
"Fashion in bridal has been the most exciting it's ever been," asserts Mara Urshel, who owns Kleinfeld Bridal, which boasts the largest selection of wedding gowns in the world.
She says designers today are working hard to accommodate those expanding wastelines.
"There's a lot of 'empire wastelines' being shown," Urshel points out.
And that's simply meeting an emerging need.
Marriage therapist Jane Greer observes that, "In the past, once the wedding was over, a lot of times, many women would go through the post-wedding blues. Now you cut right fast-forward to the excitement of having the wedding, starting your married life, and beginning a family all at the same time.
Kean told Storm, "It's just a reality for many women now. In your 20s, a lot of times, you're focusing on your career and, all of a sudden, you're in your thirties, and you're faced with this much narrower window of time to all of a sudden get married and have a family. So, sometimes these happy events just kind of overlap. And what really matters is if you love each other. I mean, who really cares if you're pregnant?"
As for any lingering social stigmas, Kean says she doesn't "really think there's any downside. A lot of people worry that maybe they didn't have enough time together, alone before baby came. But, so many couples live together now that, presumably by the time they get married, they know each other pretty well.
"But, more importantly, a lot of these brides are really creative and combining their bridal and their baby registries and having a giant party and having a big shower for both events. And, in a way, it's really magical, because a lot of them are sort of celebrating starting a family together and a life together at the same time, so there's just more joy all around."
Via CBS News