Japan is set to launch its first lunar orbiter this summer, but exploring the moon is just part of the mission. The other goal is to catch up with China, the new leader in Asia's space race.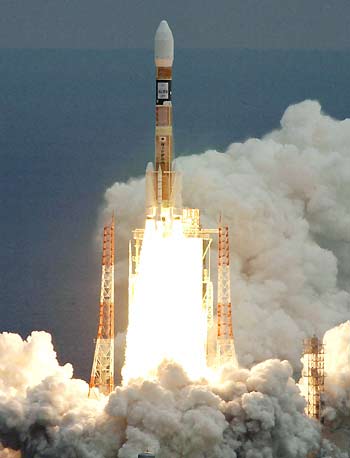 Japan's space agency JAXA announced last week that the much-delayed SELENE probe will be launched in August aboard an H-2A rocket, the mainstay of Japan's space program.
JAXA says the SELENE project is the largest lunar mission since the U.S. Apollo program. It involves placing a main satellite in orbit at an altitude of about 60 miles and deploying two smaller satellites in polar orbits. Researchers will use data gathered by the probes to study the moon's origin and evolution.
"This mission will involve observation of the whole moon, not just parts of it," said JAXA spokesman Satoki Kurokawa. "It is a very ambitious project."
The mission is a stepping stone in Japan's plan to more aggressively pursue space objectives — including a lunar landing and, possibly, manned missions in space. To raise public awareness, JAXA is conducting a "Wish Upon the Moon" campaign that allows people to send brief messages up with the orbiter.
Japan leaped ahead of Asia by launching the region's first satellite in 1972. Now it is struggling to keep up in the most heated space race since the Cold War competition between the U.S. and the Soviet Union.
China launched its first manned space flight in 2003. A second mission in 2005 put two astronauts into orbit for a week, and a third manned launch is planned for next year. This year, China also plans to launch a probe that will orbit the moon.
Earlier this month, the country launched a Long March 3-A rocket that sent a navigation satellite into orbit as part of its effort to build a global positioning system. The satellite is the fourth China has launched as part of the Compass navigation system, which is expected to be operational in 2008.
Japan, meanwhile, has met with one setback after another.
Last month, one of its four spy satellites became unresponsive due to apparent electrical problems. The three other satellites were functioning normally, but the failure left its multibillion dollar, long-awaited spy network with a big hole.
— A mission to Mars had to be abandoned two years ago after the probe moved off course.
— In January, JAXA gave up on a moon-landing mission. The Lunar-A probe, originally scheduled to lift off in 1995, was to plant two seismic sensors on the lunar surface, but development of the penetrator probes took so long the mission's mother ship fell into disrepair.
— An ongoing mission to bring back the first samples from an asteroid may be lost in space. Last month, JAXA said the Hayabusa probe succeeded in getting close to an asteroid and may have been able to pick up samples, but admitted a fuel leak in 2005 and subsequent communications problems have put its 2010 return in doubt.
The $269 million SELENE is four years behind schedule. Japan launched a moon probe in 1990, but it did not orbit the moon as SELENE is intended to do.
"We are confident that we will succeed," JAXA's Kurokawa said. "We are being very careful, as always."
Other Asian nations are joining in the race.
In 2000, South Korea broke ground on a $277 million rocket launch site. It plans, with Russian help, to put a small satellite in orbit next year.
India is hoping to launch its Chandrayaan-1 moon mission this year or next, though its technological prowess and $700 million space budget remain well behind its ambitions.
China spends at least $1.2 billion on space-related projects and the U.S. about $16 billion.
Via Seattle Times