Shortly after his arrival in Washington, the Japanese leader renewed his expression of sympathy for Asian women driven into brothels by Japan's military during World War II…

US President George W. Bush welcomed Japanese Prime Minister Shinzo Abe for the first time at the White House Thursday for talks on North Korea and Tokyo's expanding global role, AFP reported.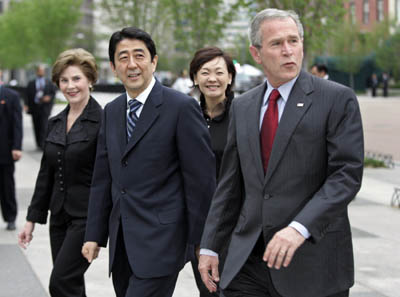 Japanese Prime Minister Shinzo Abe (2nd L) and his wife Akie Abe (2nd R) enter the White House with US President George W. Bush (R) and his wife Laura Bush to attend a social dinner in Washington D.C., April 26, 2007.  
Abe arrived here Thursday morning to hold his first summit in the United States with President George W. Bush since the Japanese premier took office in September.
Shortly after his arrival in Washington, the Japanese leader renewed his expression of sympathy for Asian women driven into brothels by Japan's military during World War II while he pledged to step up its alliance with the United States, according to the report.
"As a person and as prime minister, I feel sympathy from the bottom of my heart to former comfort women, who experienced hardships," Abe told members of the US Congress.
"I feel deeply sorry that they were forced to be placed in such extremely painful situations," Abe told a small group of Republicans and Democrats on Capitol Hill, according to a Japanese government official.
Abe sparked controversy last month by saying there was no evidence the imperial army directly coerced thousands of "comfort women" into brothels across Asia during World War II.
The prime minister has since stressed he stands by Japan's landmark 1993 apology to the women. Bush praised Abe's "candor" on the issue in a telephone conversation early this month, according to the White House.
During the meeting with US lawmakers, Abe said he hoped to build on a strategic relationship that grew under Abe's predecessor, Junichiro Koizumi, one of Bush's closest allies, a personal friend, and a staunch backer of the Iraq war.
"The Japan-US alliance is an indispensable and unshakable one," Abe said.
"It is vitally important for both Japan and the United States to (maintain) peace and stability of the Asian region, where unstable elements such as the Korean peninsula still exist," he said.
"It is necessary to further strengthen the Japan-US alliance. I would like to work together with the United States to continue dealing with various issues such as North Korea, Iraq and Afghanistan."
The congressional group, led by House Speaker Nancy Pelosi, praised Japan's contribution to the reconstruction of Iraq and called on both Tokyo and Washington to jointly tackle issues related to the international community, according to the Japanese official.
During planned talks at the White House and the Camp David presidential retreat, Abe was to seek reassurances from the US president on North Korea, particularly on the issue of Japanese citizens abducted by Pyongyang.
"I will express my stance with an iron will of seeking a solution to the abduction issue," said Abe, who rejected a US-backed aid-for-disarmament deal with North Korea due to the kidnapping dispute.
On a brisk Thursday night, Abe and his wife, Akie, walked with Bush and First Lady Laura Bush from the Blair House presidential guest residence to the White House across the street for dinner.
The Japanese inspired menu included Chesapeake Bay Crab with Yuzu Reduction, Pan-Seared Baby Shiitakes, Soft Duck Egg and Daikon Slaw, a White House statement said.
At the meeting Friday at the US presidential retreat in Camp David, Maryland, the two leaders are set to dine on an all-American lunch of controversial US beef — in the form of cheeseburgers.
Japanese curbs on US beef are one of the stickier trade issues the leaders were expected to discuss.
Japan this week agreed to ease its strict inspection regime on imports of US beef, which it had imposed over concerns about mad-cow disease.
Via China Daily