A variant form of street theatre, Eat London has been created by international food artist Alicia Rios and architect Barbara Ortiz.

Red pepper buses, gingerbread roads and a Buckingham Palace made out of fudge: the ultimate al fresco meal comes to Trafalgar Square with passers-by invited to eat the city on a first-come, first-served basis…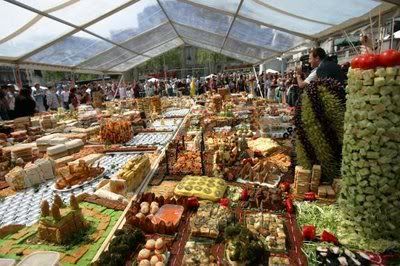 The project involves scaling down a map of the city centre from Hyde Park to Tower Bridge and Oxford Street to Elephant and Castle, complete with major buildings and landmarks. This 3-D version of the capital, covering 60 square metres, is divided into sections which are cooked and built out of food by 14 diverse community groups across east and south-east London.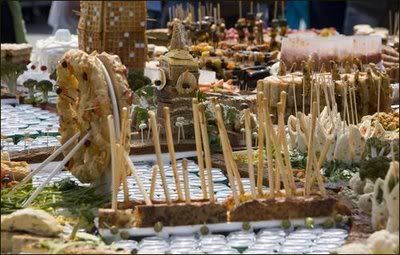 Fudge and other sweets were chosen for Buckingham Palace, while the Treasury will be a dish of vegetable curry and Westminster Abbey represented by chapatis stuffed with rice and okra.
Elsewhere, visitors will find an Imperial War Museum rendered in dim sum and a Lloyd's building consisting of rye bagels filled with salmon and cream cheese.
This event was held on the 28 April 2007.