It sounds like a fairy tale. Yang Huiyan, a 25-year-old woman, has virtually overnight become the richest person in China, with a net worth of about US$9 billion, Forbes reported on Tuesday.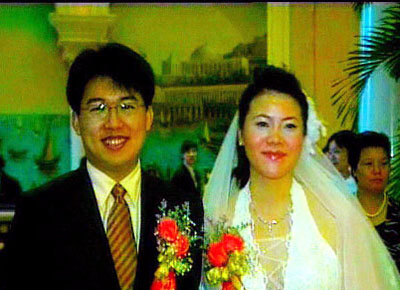 Yang Huiyan (right), the richest person on the Chinese mainland, and her husband pose for a photo during their wedding ceremony in Shunde, South China's Guangdong Province
——————————————————-
Yang owes her great fortune to the
initial public offering
of Country Garden Holdings, a real estate developer run by her father that posted sharp gains after debuting on the
Hong Kong
Stock Exchange on April 20.
Shares of Guangdong-based Country Garden surged 35.1 percent from the issue price of HK$5.38 (69 cents) to HK$7.27 on Friday, following strong demand from institutional and retail investors. The shares slipped modestly to HK$7.17 today.
Having raised US$1.66 billion in the initial public offering in Hong Kong, Country Garden is now the biggest developer in China, with a market value of about US$15 billion.
Yang's wealth puts her far ahead of Zhang Yin, chairwoman of top Chinese paper packager Nine Dragons Paper (Holdings) Ltd, as China's richest person.
Zhang topped a list of China's richest people for the first time with a personal fortune of 27 billion yuan according to Huruns' report which appeared in October 2006. And she has a fortune of more than HK$48 billion as she holds 72 percent of the paper company and its share price closed at HK$16.28 today. 
Yang would also have ranked as the world's second-youngest billionaire, behind Prince Albert von Thurn und Taxis of Germany, and she would be the youngest woman on the list, Forbes said.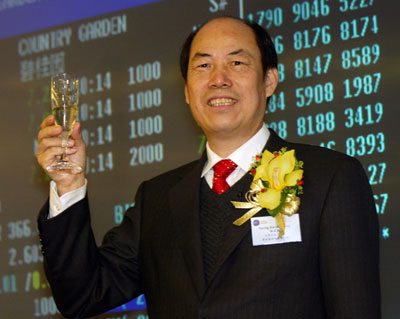 Country Garden chairman Yang Guoqiang celebrates during their debut at the Hong Kong Exchanges in Hong Kong on Friday, April 20, 2007.
Country Garden was co-founded by Yang's father, Yang Guoqiang. Her enviable financial position has more to do with his accomplishments than hers, Forbes reported.
Yang holds a degree in marketing and logistics from Ohio State University. She joined the family business in 2005. And that year, her father transferred his shares in the business to her, with the intention of grooming his daughter as his successor.
Yang currently is an executive director of the company, overseeing procurement, enterprise resources management and development strategies, according to Country Garden's offering prospectus.
In a statement on April 10, Country Garden said that Yang's ownership interest is not bound by a trust or any other arrangement with her father or other family members, and she has the freedom to manage her assets as she sees fit.
Yang Erzhu, another of the five founders of Country Garden, has also joined the ranks of China's billionaires, thanks to the IPO. He reportedly comes from the same village as Yeung. His 10.2 percent stake is worth about US$1.5 billion.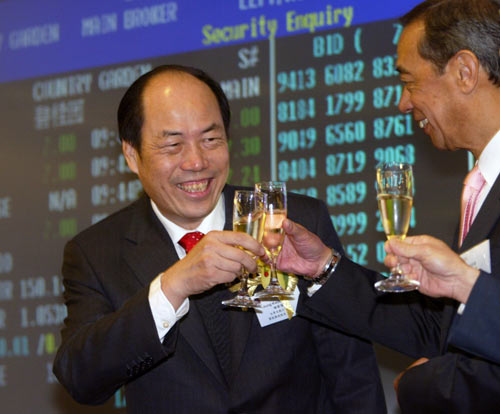 Country Garden chairman Yang Guoqiang (L) celebrates with Ronald Arculli, Chairman of Hong Kong Exchanges and Clearing Limited (HKEx), during the debut at the Hong Kong Exchanges in Hong Kong April 20, 2007. Shares in Country Garden Holdings Co, which raised US$1.66 billion in the biggest-ever IPO by a Chinese developer, jumped 35 percent in their Hong Kong debut.
 
The wealth of Yang and her father was hard to track in advance of the Country Garden offering. The co-founders had shunned the media, and, until a corporate reorganization last year, their investments were spread across more than 30 entities, including real estate development companies, a theme park, hotels, a decoration business and a management concern.
People in Guangdong Province are familiar with Country Garden, which sold its first project — Bi Gui Yuan — in 1997 in Shunde, a city on the outskirts of provincial capital Guangzhou and one of China's richest urban areas. Over 10 years, the group has accumulated about 19 million square meters (7.3 square miles) of land reserves by the end of January.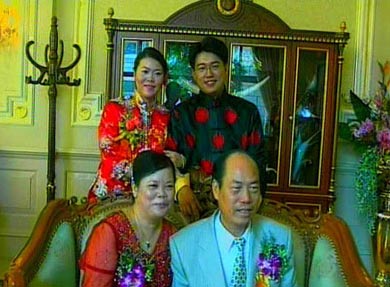 Family photo
Nonetheless, Yang had managed to maintain the lowest of low profiles until he showed up in public for a road show in support of the IPO last month.
The 52-year-old Yang was born in an impoverished village in Shunde, reportedly never wearing new clothes before he was 17. He earned a living by raising cattle and growing crops before becoming a bricklayer and contractor, according to the Hong Kong Economic Times.
In 1992, Yang and several partners built 4,000 houses in a Shunde development. Hit by a real estate tax implemented to cool down rising property prices the next year, Yang had a hard time in selling the properties. To solve the crises, he built an international school inside the villa that eventually attracted affluent Guangzhou residents to the houses.
Yang has a good relationship with the local government and is currently a member of the Standing Committee of the People's Political Consultative Conference in Foshan, one of the largest cities in Guangdong Province. 
Via China Daily