The economies of the United States and China are so inextricably entwined that if something bad happens to China it is going to negatively affect the US.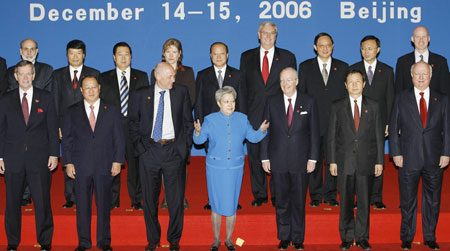 Chinese Vice-Premier Wu Yi (C) gestures during a photo-call with U.S. Treasury Secretary Henry Paulson (front row, 3rd L), U.S. Ambassador to China Clark Randt (front row, 3rd R) and other members of the U.S. And Chinese delegations at the Great Hall of the People in Beijing December 15, 2006.
————————————————-
Similarly, what is good for the Chinese economy will be good for the long-term benefit of the US.
That is the reason the two countries need a strategic economic dialogue like the one to be held later this month in Washington DC, the US Ambassador to China told China Daily.
The dialogue is the fruit of an initiative by the two presidents and is designed to allow the leaders of the two countries to "talk about our economies in a strategic fashion".
To manage the trade relationship of $343 billion, one should go beyond the ministry-to-ministry conversations about specific areas and touch on matters of a fundamental nature, Clark T. Randt, Jr said in a recent interview.
Citing an example, Randt said it is no longer enough for energy ministers to meet because what they talk about will inevitably involve environmental issues. So the strategic dialogue will be a platform where both issues can be addressed at the same time. To support environmentally clean technologies, tariff exemption for such equipment will also be discussed, therefore straddling more departments.
The service industry will be another subject of focus. It is where the US has a competitive advantage and, according to Randt, will help balance bilateral trade. "The way to address the trade deficit is for us to sell more to China rather than restricting Chinese sales to the US," he emphasized.
Financial services and services for infrastructure are areas where Randt hopes to make progress. "If you look around the world, you cannot find a financial center that is not open. An open environment for the industry, such as in Hong Kong, will employ a lot of local people, who will prosper and become more sophisticated."
Another area of discussion is innovation, which, as Randt observed, has been made a component of China's national policy. The protection of intellectual property rights will encourage innovation by offering more incentives to take risks and make investments.
He contended that "the Chinese government is serious and efforts have been made, but they are not enough and stricter measures are required". He said that China should import more movies so that the market would not be ceded to pirates.
Balanced growth will be another topic.
As China's growth has been driven by exports, it skews the domestic economy in ways that are not in the best long-term interest of the Chinese people, Randt said.
The final point is transparency, which he said is crucial in economic and other activities. "With respect to China's military modernization, it is not surprising that a country that is emerging and a global stakeholder feels obliged to protect its interests. Any concerns we have are linked to transparency,"Randt said. But he added he is encouraged by recent steps in that direction.
Randt emphasized that trade disputes are normal.
"We have more trade disputes with Canada than with China. If you don't have any disputes, you don't have any trade … China's low-cost and high-quality exports help the American people have a higher standard of living. By the same token, we, as the biggest country customer of China, have been an engine for your growth,?he said.
Regarding the argument that China is growing at the expense of America, Randt offered the following observation: "China is by far our fastest growing export market, with 32 percent growth rate last year. That's the real story."
As for the claim that China will eventually pose a threat to America, Randt alluded to President George W. Bush, "my boss", who "said on countless occasions": "A strong, prosperous and stable China with peace with itself and its neighbors will not only be good for China, but good for the region and for the United States. When China grows, it will also have a bigger stake in peace."
US commander on first China visit
Commander-in-Chief of the US Pacific Command Timothy Keating arrived in Beijing yesterday on his first China visit since taking office.
During his stay in Beijing, Keating will meet senior Chinese generals and officials, including Guo Boxiong, vice-chairman of the Central Military Commission, China's top military institution.
The five-day visit will also take Keating to Nanjing, capital of East China's Jiangsu Province, where Keating is scheduled to visit military institutions and bases.
Keating took the helm of the US forces in the Pacific in late March, succeeding William Fallon.
Also yesterday, a delegation from the US National Defense University Capstone Program, headed by retired general William Nyland, visited Beijing.