Team-building, adult playtime for 15 minutes each week at a Bristol company helped restore workers' morale.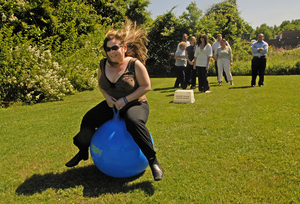 Michelle Luciano usually spends her days selling orthodontic equipment – from braces to retainers – to dentists from her desk at Masel Enterprises in Bristol.
But yesterday, her job included hopping on a bouncing ball, tumbling on an air mattress, jumping through hoops (sort of), pushing a toddler's plastic lawn mower through an obstacle course, and running with an egg on a spoon.
And being yelled at by Cathy Toryk, a manager. "Jump harder, jump harder. Roll, roll, roll, kick, c'mon!"
If it's 10:30 on a Wednesday morning, it must be adult recess at Masel.
Yesterday was a picture-perfect day to escape the office and warehouse for companywide relay races on the back lawn.
But neither rain nor snow (they don't regularly work at night, gloomy or otherwise) shall keep these workers from their weekly recess. Besides outside water-balloon tosses and basketball, there are also indoor remote-control-car races, electric-slide dances in the lunchroom, and games of Simon Says.
"Fifteen minutes out of work," laughed Luciano, of Philadelphia, "we're all about that."
Former casino dancer Victoria Martin, the marketing coordinator who started adult recess two years ago, said the program builds teamwork across departments, improves morale, and creates a happy workplace.
OK, it's totally corny.
And if it happened in Scranton, on the NBC TV series The Office, it would be the usual disaster of embarrassing miscues with grumpy workers dragooned into participation.
But for some reason, it works at Masel, and sales rep Christopher Simon, from Philadelphia, put his finger on why: "Recess is a manifestation of what goes on here normally. You have to get work done, but it's a playful atmosphere."
Exactly, said Gayle Porter, an associate professor of management at Rutgers University in Camden.
"Many companies were trying to force this type of thing unnaturally, and people have had so many bad experiences that it got to be sitcom material," she said.
Porter said that, for team-building exercises to work, "a company has to have a reasonably good situation to work with.
"If morale is bad, it's because people have some issues, and playing games isn't going to solve those issues," she said.
"There's a fine line between what's cute and light-hearted and what might offend some people as being childish or treating them like children instead of adults," Porter said.
The story of adult recess at Masel is really a story of morale turnaround. Founded in 1906, the family-run company kept on course until it was sold in 1997. Before then, the atmosphere was serious, but workers were well-treated, said customer-service manager Rosemary Seagraves, a 14-year employee.
The new owners installed two successive general managers, and, by the time the second was in the middle of his stint, sales – and morale – had tanked. Seagraves, then in accounting, started looking for another job. "I knew we wouldn't be around too long," she said.
Then, former longtime sales manager Ronald L. Baron, who had been canned by the second general manager, was rehired by the same general manager. A few months later, in December 2003, Baron replaced that manager and became the third general manager.
Baron said he was shocked by how morale had deteriorated. "I called it the Stepford Wives syndrome," he said. "We had people working, but they were going through the motions. They were beaten down."
At first, Baron instituted discipline: Lateness became a prime offense. Everyone, including himself, still punches a time clock. He opened the books, and showed revenue and profit. "I immediately took the blinders off," he said. "People can't get invested in their work if they don't know about it."
Daily and monthly sales goals are posted on bulletin boards, next to endless inspirational exhortions and silly photos.
Any major changes happen with employee input, Baron said. "If they help fix the problem, they'll help enforce the new process."
Annual blind surveys clue him in to incompetent mid-managers or other problems. One manager hid in his office. "I realized that was my fault because I hadn't trained that manager in management-by-walking-around," Baron said. The manager still works at Masel.
Baron wouldn't disclose how much the company earns, but said that he has had three years of double-digit revenue growth and that profit was up 50 percent in those three years.
Masel's workforce dropped from 36 to 32 in the first rough period, but is back to 40 and expanding.
Now, if sales are going well, managers wash employees' cars in the lot. Ice cream parties and barbecues break up the week.
"Before we could fix the business," Baron said, "we had to get our people on board."
Via: Philly.com