Would you mind if a cow takes a dip in your swimming pool?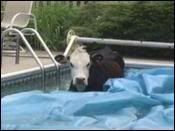 A family in western Massachusetts had a strange sight in their swimming pool Tuesday night — a 1,000-pound cow.

Several cows had wandered off from a Pittsfield farm on the day before. One of them ended up taking a dip in the pool.

The homeowners called Pittsfield police. One of the officers said it was the first time he had ever heard of a cow ending up in a swimming pool.

The officer called a nearby farmer to see if he was missing a cow. It turned out it was one of George Noble's cows.

Noble along with several farm hands brought over a large ramp and were able to forcefully get the cow out of the pool and back home where he belonged.
Don't miss the video after the jump.