Merck's new drug Januvia controls blood-sugar in two-thirds of diabetics when combined with the drug metformin, the company said Saturday.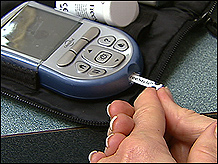 Januvia, a pill that was approved by the Food and Drug Administration in October of 2006, lowered blood-sugar to acceptable levels in 67 percent of diabetics participating in the study, when the drug was combined with metformin.
The study tracked 364 type 2 diabetics over 54 weeks, with half the participants taking Merck's combo and the other half taking only metformin, a generic diabetes treatment. Of the patients who took only metformin, 44 percent reached healthy blood-sugar levels, said
Merck
.
This study is an extension of previously announced results that looked at diabetes patients after six months.
Type 2 is the most common type of diabetes, accounting for at least 90 percent of the more than 20 million diabetics in America, according to estimates from the American Diabetes Association.
The onset of type 2 typically occurs in adults as the result of bad health, and the disease is growing in step with the aging population.
Merck spokeswoman Amy Rose said these study results were provided to the FDA in February, but this is the first time the information has been made public. Drug companies often submit additional study results to the FDA after a drug has already been approved in order to get additional uses cleared for the market and to bolster the drug's effectiveness in the eyes of regulators and doctors.
Merck announced the study results at the ADA annual conference in Chicago and plans to reveal more Januvia results on Monday.
Januvia is new to the market and is widely believed by analysts to have billion-dollar blockbuster potential. Novartis drug Galvus would be the most direct competitor to Januvia, if it gets approved by the FDA, but the drug has been held up by the agency.
Merck, based in Whitehouse Station, N.J., also produces and sells a drug combination called Janumet, which includes Januvia and metformin. The advantage of the newly-released study results, said Rose, is that combining the two drugs separately provides doctors with more dosing flexibility than Janumet, which is particularly important in newly-diagnosed diabetics.
Diabetics have difficulty producing their own insulin, so they typically inject it to maintain healthy blood-sugar levels and to avoid hypoglycemia. Drug companies often tout their drugs as having low incidents of hypoglycemia compared to insulin and competing drugs.
In its study, Merck found that the risk of hypoglycemia was slightly higher for its Januvia-metformin combo, occurring in five out of 182 patients, compared to two out of 182 patients who took only metformin.
The New York-based drug giant
Pfizer
has found a way for diabetics to take insulin without having to inject it. Pfizer released its device Exubera – used by diabetics to inhale insulin, instead of the traditional means of injecting it – onto the market last year, but sales have been disappointing.
In a separate announcement at the ADA Saturday, Pfizer reported the results of a three-year study that it hopes will ramp up use of the device.
Pfizer said Exubera patients maintained blood-sugar levels while gaining 1.4 pounds less than those who injected insulin. Also, Exubera caused only a slight impairment to lung function, which got better once patients stop using the device, the company said.
The diabetes drug industry is a lucrative area for big pharmaceutical companies. The market for non-insulin oral drugs is estimated at more than $8 billion in sales annually. Drug benefit manager
Medco Health Solutions Inc.
expects diabetes-related drug spending to surge 70 percent through 2009.
Avandia and Actos have recently come under fire. The Cleveland Clinic's chief cardiologist, Dr. Steven Nissen, reported in The New England Journal of Medicine in May that Avandia appeared to increase the risk of heart attacks.
GlaxoSmithKline and other critics blasted Nissen's report for being based on a "meta-analysis," or a consolidation of old data from Glaxo. But during Congressional testimony, FDA commissioner Andrew von Eschenbach said his agency is seeking stronger warning labels for Avandia and Actos.
VIA: cnn.com