Bao Xishun, 56, a 2.36-metre (7 ft, 7 inches) herdsman listed by the Guinness World Records as the tallest living man, and his bride, Xia Shujuan, 29, 1.68 metres (5 ft., 5 inches), took part in an Erdos Wedding Ceremony at Genghis Khan's Mausoleum, Inner Mongolia Autonomous Region on July 12, 2007.

Standing at 7 foot 9 inches and towering over his new wife the world's tallest man married a woman two-thirds his size and almost half his age in a traditional Mongolian ceremony sponsored by at least 15 companies hoping to cash in on his fame.
Hundreds of people, some travelling for hours, turned up to see Bao, 59, wed saleswoman Xia Shujuan, a mere 5 foot 6 inches tall and just 29 years old.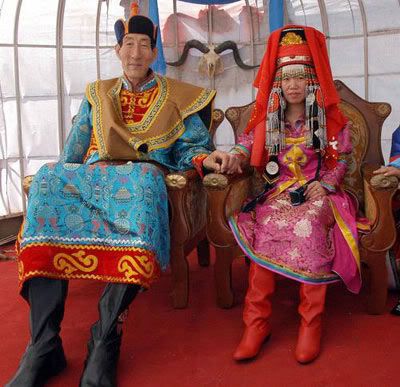 "If we can have children, we'll have children", Bao said before the wedding. "If not, then not. If we have a child, I hope he or she can be about 2 metres tall. Then he or she can play basketball."
Source: ChinaDaily via Spluch