It was like any other day at the Nassau County Aquatic Center on Wednesday, with young kids frolicking in the shallow end of the pool and lifeguards watching adults swim laps. All seemed utterly unaware of the history was being made just below the water's surface.

Two new Guinness World Records were being established by New Yorker Ashrita Furman, the man who holds more of them than anyone in history.
Bouncing his way across the bottom of the pool on a pogo stick, Furman travelled 1,680 feet, establishing a new Guinness World Record.
After a short break, Furman set out to break his own record for underwater hula hooping. His old record for continually hula hooping underwater was 2 minutes, 20 seconds. On Wednesday he cruised past this mark to end at 2 minutes, 38 seconds.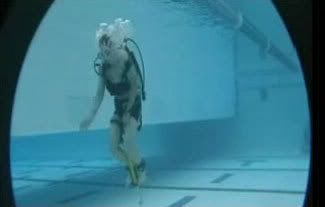 "The biggest challenge really is figuring out how to make your body move to keep this hula hoop twirling. It's really an all-body exercise and it's especially tough on your quads and your abs and it's just so after a while you just start getting tired," said Furman.
There are news videos here and here.
via Arbroath