Data show the surveillance helps on targeted streets, and 500 more are coming. But critics see a blind spot.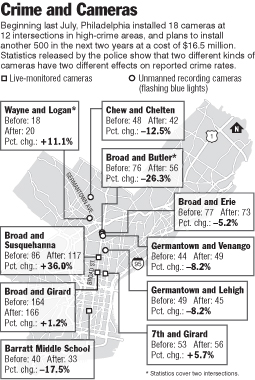 It's 10:39 a.m. outside the Fresh Donut at Seventh Street and Girard Avenue in North Philadelphia, time for water ice and malt liquor.
Clients from the nearby methadone clinic hover in 90-degree heat. Some cool off with lemonade and return to work; others pop pills, sip Steel Reserve lager, and doze. A man with a Pepsi waves to a camera up on a lamppost, which silently records the scene.
It has been a year since the first city-owned police surveillance cameras came online at 12 crime hot spots. And the results, while inconclusive, are encouraging, officials say.
With 500 more cameras to be installed in the next two years, initial statistics compiled by the city suggest that the cameras are reducing crime at key intersections while generating arrests for crimes that previously went undetected.
Police supervisors say the numbers reflect what they see on the street: The presence of the cameras seems to discourage crime. Critics, however, warn that could be an illusion, with criminals moving elsewhere and overall crime rates staying the same.
Still, police commanders are believers.
"From an enforcement standpoint, it does send a message that we're out there," said Capt. Lou Campione, commander of the unit in charge of the cameras. "It becomes the eye of the police in that community."
Said Capt. Branville Bard, whose 22d District includes two intersections with cameras: "The cameras are invaluable, if for nothing else the deterrent factor that they have."
The city uses two types of cameras.
One announces its presence with a blue strobe light. These cameras feed into a digital recorder that is not monitored by police, but the information can be retrieved if needed. Police hoped these would discourage crime.
"If deterrence is the primary goal, then the mere presence of a camera should be sufficient," Jerry Ratcliffe, associate professor of criminal justice at Temple University, wrote in Video Surveillance of Public Places, the U.S. Department of Justice's guide to closed-circuit monitoring.
A second type of camera does not have the bright strobe light – a dull blue bulb substitutes – and is monitored by police who can pan, tilt and zoom the cameras remotely. Police hoped these would capture crimes on tape and lead to arrests.
An Inquirer analysis of police statistics suggests both types of cameras are performing as anticipated.
At eight locations with the highly visible, unmonitored cameras, reported crimes went down by 8.4 percent. There was a 37 percent decrease in violent crimes, most notably assaults and robberies, according to the city's figures.
At the four locations featuring the less visible, monitored cameras, including Seventh and Girard, reported crime increased 8.5 percent. Police attribute the increase to unreported crime that was always there but is now caught on camera.
"Absolutely, we're seeing more," Campione said.
And they are making arrests.
For example, last month the camera at Seventh and Girard twice caught drug deals on tape. Arrests were made.
Those interviewed at the intersection, from methadone clients to merchants, had mixed reviews of the cameras, testament to their admitted limitations.
One storeowner, who declined to give his name, said his shop, Young Urban Outfitters, had been robbed in December, but that the camera 100 feet away had caught nothing.
Jea Lee, whose family owns Lee's Market next to Fresh Donut, said drug dealers had scrambled away after the cameras went up in July 2006, but "now they just move it down the street, or behind the church."
That echoes criticism by the American Civil Liberties Union and others who say cameras only displace crime.
"We know of no data that these cameras decrease crime overall," said Mary Catherine Roper, staff attorney for the ACLU of Pennsylvania. "It would be nice if we had these resources addressing serious drug crimes and things like that, instead of having those resources sitting in front of TV screens."
Camera supporters acknowledge that criminals will disperse to other areas. But once a cluster of criminals is broken up, the crime that moves to surrounding blocks is generally less, Ratcliffe said. Police agreed.
"As you displace it, it loses strength," Campione said.
That is the hope as the city moves to install even more cameras.
Terry Phillis, the city's chief information officer, said 250 cameras would be in place at about 120 locations by the end of 2008. Installation is to begin as early as next month. The cost: $7.5 million.
Another 250 cameras are to be added in 2009 at a cost of $9 million, Phillis said. Funding for those cameras is still lacking. U.S. Rep. Chaka Fattah (D., Pa.) said he hoped to match the city's $5 million contribution with federal grants.
The new cameras, city officials say, will all be prominently displayed, and can all be monitored. And they will be wireless. That will avoid problems such as when a building collapse last month shut down four cameras surrounding Barratt Middle School in South Philadelphia for eight days.
Other cameras in the city have had problems staying online. Cameras run by the Philadelphia Commercial Development Corp. – not connected with the Police Department – went dark for two months, victims of a computer hacker.
No city camera has been shut down for more than a few days, officials said.
Funding will be a concern going forward; the $3.5 million annual maintenance cost expected for 500 cameras does not include the cost of police staffing.
But both major-party mayoral candidates, Democrat Michael Nutter and Al Taubenberger, said they supported the cameras.
The police union is only a lukewarm supporter.
"Cameras are an effective tool for crime-fighting if they're used properly. I've never seen them used properly," said Eugene Blagmond, Fraternal Order of Police spokesman. "Until they do that, the money is better spent on equipment, personnel and training."
Deputy Police Commissioner John Gaittens, who compiled the statistics on the cameras, said he understood that the jury was still out on whether the numbers showed anything other than that "the bright-blue light works."
But Gaittens pointed to a Dec. 10 shooting on Girard Avenue in which the victim drove his car onto the sidewalk at Broad Street. The officer monitoring the cameras called in the scene as a possible drunk driver; medics who arrived found the victim behind the wheel just in time, Gaittens said, to save his life.
Private cameras helped solve the murders of Officer Gary Skerski last year and hospital worker Patricia McDermott in 2005.
"If you clear one homicide," Gaittens said, "can you put a price tag on that?"
Via: Philly.com