A three-story-tall image that was taken using a camera obscura made from an old airplane hangar has qualified with the Guinness Book of World Records as the largest photograph in the world, the photographers who created it said Monday.

The hangar-turned-camera also qualified as the world's largest camera, measuring more than 44 feet (13.4m) tall and 161 feet (49m) long, according to The Legacy Project, which created the artwork.
The project was organized to capture a lasting image of the nearly 5,000-acre Marine Corps Station El Toro, a decommissioned military base that is being converted into hundreds of acres of parkland, a museum district, a sports complex and thousands of suburban homes. The photo shows the control towers, palm trees and a portable toilet.
To make the image, a team of six artists used a tiny peephole in the hangar doors to project light from the outside onto a sheath of light-sensitive fabric hanging inside the darkened facility.
The photographers used a 31-by-111 foot (9.4-by-33.8m) piece of white fabric covered in 20 gallons of light-sensitive emulsion as the photographic "negative." The fabric alone, which was imported from Germany, weighed 1,200 pounds (544 kg).
After exposing the fabric for up to 10 days, they developed it in a tub the size of an Olympic swimming pool, using 600 gallons of back-and-white developer solution and 1,200 gallons of fixer.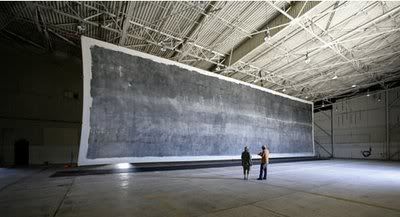 The picture is about 11 stories long and about three stories tall.
The Guinness Book of World Records created two new categories for the feat, the world's largest photograph and the world's largest camera.
More images after the jump.
Image Gallery: The Legacy Project
Source: DailyComet