Medicare will stop paying the costs of treating infections, falls, objects left in surgical patients and other things that happen in hospitals that could have been prevented.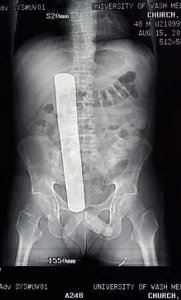 This x-ray shows a 13-inch long surgical retractor that was left inside a man's body during an operation to remove a tumor. The device was later removed when the man complained of pain after the initial surgery.
The rule change announced this month is among several initiatives that the administration says are intended to improve the accuracy of Medicare's payment for hospital patients who receive acute care and to encourage hospitals to improve the quality of their services.
"Medicare payments for inpatient services will be more accurate and better reflect the severity of the patient's condition," Herb Kuhn, the acting deputy commissioner of the federal Centers for Medicare and Medicaid Services, said in a statement.
The rule identifies eight conditions – including three serious types of preventable incidents sometimes called "never events" – that Medicare no longer will pay for.
Those conditions are: objects left in a patient during surgery; blood incompatibility; air embolism; falls; mediastinitis, which is an infection after heart surgery; urinary tract infections from using catheters; pressure ulcers, or bed sores; and vascular infections from using catheters.
The Centers for Medicare and Medicaid Services said it also would work to add three more conditions to the list next year.
"Our efforts in this arena and in other payment rules are to ensure that CMS is an active puchaser, not passive payer, of health care," Jeff Nelligan, a spokesman for the agency, said Saturday. He said the rule "underscores our drive toward quality, efficiency and integrity in the hospital setting."
Hospitals in the future will be expected to pick up the cost of additional treatment required by a preventable condition acquired in the hospital.
"The hospital cannot bill the beneficiary for any charges associated with the hospital-acquired complication," the final rules say.
Congress in 2006 gave the Centers for Medicare and Medicaid Services the power to prevent Medicare from giving hospitals higher payment for the extra costs of treating a patient when infections and other preventable conditions occur during a hospital stay.
Hospitals are to begin reporting secondary diagnoses present on the admission of patients starting with discharges on October 1. Then, starting exactly one year later, cases with these conditions would not be paid at the higher rate unless they were present on admission, the agency said.
Last year, Mark McClellan, then director of the Medicare and Medicare programs, said the government could save hundreds of millions of dollars a year if the Medicare program stopped paying for medical errors such as operations on the wrong body part or mismatched blood transfusions.
Medicare provides coverage for about 43 million elderly and disabled people. The Medicare program's expenses totaled about $408 billion in 2006; costs are expected to rise rapidly in coming years.
Via: The Guardian