A 94-year-old woman who this year became the world's oldest recipient of a masters degree has been named South Australia's adult learner of the year. Phyllis Turner, enrolled at university at the age of 70 – more than half a century after leaving school when she was 12.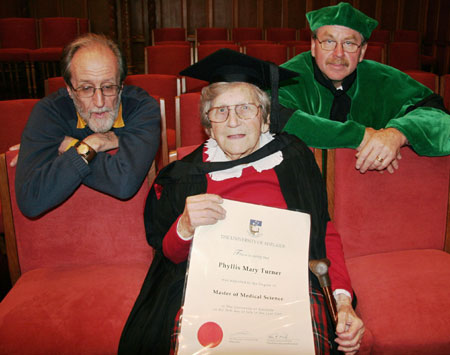 Ninty four-year-old Phyllis Turner (C) poses with her supervisors, Professor Colin Groves (L) and Professor Maciej Henneberg after she received her Masters degree in Medical Science from at the University of Adelaide
At age 75 she was awarded a bachelor of arts at Adelaide University and then in 2002 graduated with an honours degree in anthropology.
She completed her masters in medical science in July this year.
Further Education Minister Paul Caica said there could be no better winner of the adult learner award than Mrs Turner.
"Her amazing story of enrolling at university at 70 after having left school before she was in her teens and going on to win an armful of qualifications is a remarkable accomplishment," Mr Caica said.
"It's a reminder to us all that it is never too late to return to life-long learning.
"In broadening your knowledge and skills, it will enrich your life and expand your horizons."
Mrs Turner has been urged by her university supervisors to continue her studies towards a PhD.
Via: Fark.com