U.S. gasoline supplies dropped last week to their lowest level since Hurricane Katrina slammed into Gulf Coast refineries two years ago, the U.S. government said on Thursday.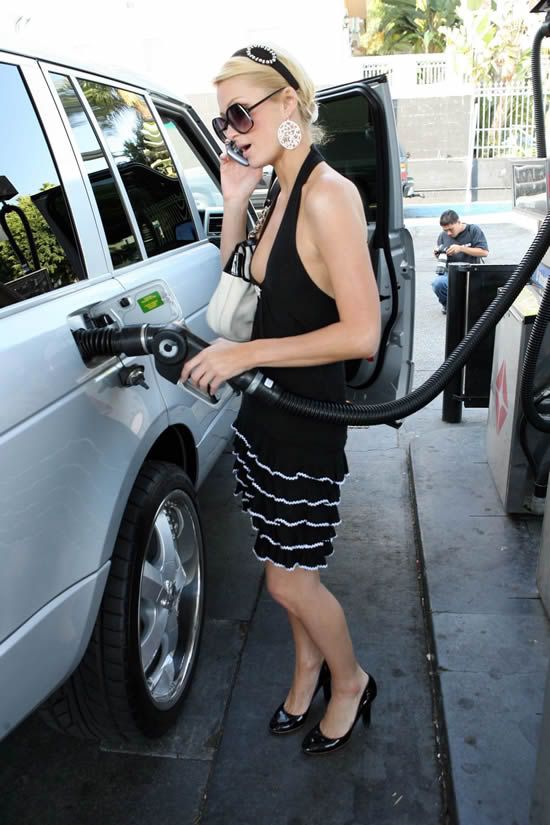 Paris Hilton, notorious gas hog and overdressed gas pumping sex symbol
But the crunch in stockpiles may not turn out to be a nightmare for drivers at the pumps as road travel is expected to slow with the end of the summer vacation season.
"We're not terribly concerned because we're at the end of the summer and demand for gasoline should start declining over the next several weeks," said Doug MacIntyre, analyst for the U.S. Energy Information Administration.
Commercial gasoline stockpiles fell 1.5 million barrels to 191.1 million barrels in the week ended August 31, the lowest level since September 2, 2005, when they were at 190.1 million, the EIA said in a report.
The current inventory of gasoline is enough to supply the United States for 19.83 days, the lowest level of demand cover on record, MacIntyre said.
This summer's slide in gasoline stocks comes after a prolonged stretch of problems at the nation's aging oil refineries that has cut into domestic production and buoyed pump prices near $3 a gallon.
Nationwide gasoline prices were $2.81 a gallon on average Thursday, down from the record $3.23 hit in late May, according to the AAA's daily price survey.
MacIntyre said gasoline inventories typically slip at the end of summer as refiners start to focus on production of heating oil for winter, and as fuel suppliers clear out their tanks of summer-grade gasoline to make room for winter-grade.
"Stocks are definitely tight, but the draw down at this time of year is not unusual," he said.
Via: Reuters.com