An Oregon man won the annual pumpkin weigh-off here, presenting a gigantic gourd that came it at 1,524 pounds (691 kg). Thad Starr, of Pleasant Hill, Ore., set a contest record with the pumpkin. He'll get $6 a pound, bringing his winnings to $9,144.

It's the thrill of the victory," Starr said after his pumpkin came out on top. "And it's the fruition of a year's work."
Pumpkins were lowered by forklift onto a 5-ton capacity digital scale monitored by officials from the San Mateo County Agricultural Commissioner's Office.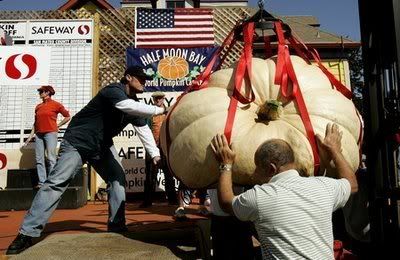 The top five pumpkins at the Half Moon Bay Art and Pumpkin Festival will remain on display throughout the week.
Video: Yahoo News
Source: Yahoo News
via Spluch